GO Global Webinar With Sam Dey & Cheri Tree Attended By 5,000+ People
August 29, 2023
By Team Business For Home
GO Global recently hosted a webinar with over 5,000 attendees. Online marketing and sales experts Sam Dey and Cheri Tree took the virtual stage, sharing their incredible strategies to conquer sales challenges and achieve success in the direct selling industry.
This webinar marks a significant milestone for individuals seeking insights and opportunities for growth and success.
Sam Dey and Cheri Tree, both professionals, revealed innovative strategies and invaluable tips that resonated with the aspirations of the GO Global community  and created an atmosphere of motivation and inspiration.
"We are thrilled to have had the privilege of hosting Sam Dey and Cheri Tree, whose expertise and achievements in the direct sales industry are truly exceptional.

By sharing their insights and practical advice, we are confident that our members will be equipped to reach new heights of success in their entrepreneurial journeys."
said CEO Nader Poordeljoo.
For individuals seeking in-depth training and education, GO Global offers access to courses from Sam Dey and Cheri Tree on its GO Learn platform. These courses provide an opportunity for individuals to learn directly from industry experts at their own pace.
With these courses, individuals can acquire knowledge and skills necessary to succeed in the direct sales industry.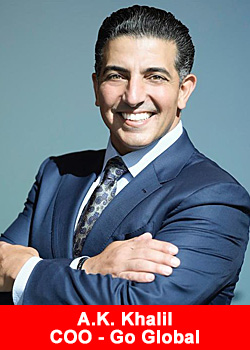 "Everything that we are doing is for our community to grow and achieve more. We are always looking to help our members reach out, connect and close the month strong enough.

The buzz is all about the upcoming G6 Summit, which promises to be a transformational event that goes beyond just celebrating ranks and achievements."
Said COO A.K. Khalil.

Furthermore, The G6 Summit is all set to roll out the red carpet for all G6 rank achievers, offering a first class luxurious experience. With a focus on innovation, growth, and personal development, the G6 Summit represents a unique opportunity for members, industry experts, and top achievers to celebrate, connect, exchange strategies, and gain valuable insights to thrive in the direct selling industry.
GO Global continues to highlight its commitment to help its members by hosting additional webinars featuring industry experts, sharing essential tools and resources and offering training programs that will equip members with everything they need to succeed in the direct sales market.

About GO Global
GO Global is an affiliate marketing company offering various digital products and solutions.  Of which include an education platform providing the best online training for personal and professional growth as well as its INFIN8 MONEY cash card that allows anyone to easily convert their crypto currencies into cash for use at an ATM or anywhere major credit cards are accepted worldwide.

The company aims to empower individuals with the tools and resources they need to succeed in all areas of their life. To know more, visit us at goglobal.network

Recommended Distributors Go Global