MyDailyChoice Introduces Newest Brand Partner Lean Java Bean, Into the MDC Marketplace
August 4, 2023
By Nicole Dunkley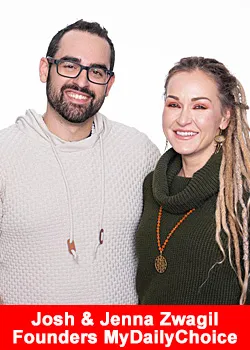 Lean Java Bean is a delicious, 100% non-GMO, keto-friendly coffee that supports weight management and helps curb appetite. With clinically tested ingredients, a rich Italian roast flavor, and the convenience of instant stick-packs, Lean Java Bean is a great choice to support your healthy lifestyle and fitness goals.
Their mission is to help people achieve their weight loss goals in a healthy and sustainable way. They strive to provide a convenient and delicious solution that fits into busy lifestyles while educating and empowering their customers to make positive lifestyle changes for long-term success. 
They are committed to using only the best ingredients and manufacturing processes, ensuring customers receive a safe and effective product they can trust. At the core of their business is a passion for improving the lives of their customers and promoting a healthier society.
Lean Java Bean's products are made with University Tested and Clinically Proven Ingredients including SuperCitrimax and ChromeMate. 
MyDailyChoice Founder, Jenna Zwagil says,
"I drink this coffee every morning to kickstart my day. I have noticed that I am not hungry until 2pm. I am a big believer in intermittent fasting; this coffee makes it easy to do. I can conquer my fitness goals much easier by drinking this coffee." 
500K Affiliate in MyDailyChoice, Candace Byrd Davis says,
"This coffee has changed my life! I am finally able to drop the weight and keep it off. I love how I look and more important how I feel. I have a ton of energy every day now. I'm a believer!" 
Candace Byrd Davis, MyDailyChoice 500K Affiliate
About MyDailyChoice
MyDailyChoice is a marketplace where you can discover new brands, shop for your favorite products, and empower your entrepreneurial spirit. Founded by two dynamic entrepreneurs, Josh & Jenna Zwagil, who had a desire to empower individuals by eliminating obstacles and fostering positive change. For more information, please visit www.mydailychoice.com
Recommended Distributors MyDailyChoice