Women of Perserverance: How Sandee Aqui and Nathalie Akona Achieved Diamond in ibüümerang
August 9, 2023
By Nicole Dunkley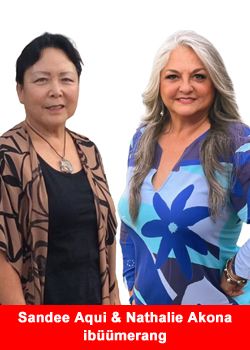 For Hawaiian native Sandee Aqui, ibüümerang was a light in the dark; searching for a way to work through a devastatingly tragic time in her life, she found solace in a company that "felt like home."
Her daughter had just passed, leaving behind Sandee's now-orphaned grandchildren, who became her "why" for creating an unending legacy through ibüümerang. 
"It took time for me to be able to function properly, and focus on the mindset needed in this business,"
said Sandee.
"But with the unbreakable system of ibüümerang and Mr. Holton Buggs, I knew NOT going Diamond wasn't an option."
After nearly four years of grief, Sandee persevered through her own strength and sought the guidance of the "leader of leaders," CEO Mr. Holton Buggs, before achieving Diamond and securing her family's legacy.
The journey to ibüümerang was long for fellow Hawaiian native Nathalie Akona; after decades of self-employment, she had a handful of failed network marketing companies along the way. Having finally joined the "place with the right leadership" in March 2023, she devoted herself entirely to her business for the next two months, becoming a Diamond Ambassador at the end. 
At 71 years old, she proves it's never too late to achieve your dreams. It just takes the right environment.
"I've been in so many companies where the leaders who are at the top just stay there,"
said Nathalie.
"ibüümerang's leadership has actually gotten down with me, helped me, and that's why I'm here." 
To further hear about these two inspirational women leaders and their long-winding journeys to the top, watch their interview below: 
About ibüümerang: 
Officially launched on September 1, 2019, ibüümerang was founded on the vision and mission of giving back to others without expecting anything.
ibüümerang pioneered the concept of "you only earn when your customers save," and supports the Büüm Foundation in providing an abundant life for every child on the planet.
For more information on ibüümerang and its top-tier leadership team, visit the company website at www.ibuumerang.com.
Recommended Distributors iBuumerang