Go Global First Ever G6 Summit In UAE
September 19, 2023
By Nicole Dunkley
GO Global recently hosted the inaugural G6 Summit, with 80+ G6 achievers for an all-expenses-paid, 3-day luxury leadership experience at the Ritz Carlton, Ras Al Khaimah.

With the entire Ritz Carlton booked for the summit, GO Global rolled out the red carpet for the G6 achievers, creating an ambiance of luxury and exclusivity.
As part of the event's commitment to personal and professional growth, renowned entrepreneur and business strategist, Cheri Tree, delivered an exclusive 90-minute business training session. Attendees gained valuable insights and strategies to further elevate their success.
"Our journey is not just about reaching new heights, it's about helping every member discover the limitless potential within themselves. Our success lies not just in what we achieve, but in how we empower others to achieve greatness."
– said CEO Nader Poordeljoo
To make this event even more special, all attendees were welcomed with personalized GO Global branded boxes filled with traditional UAE souvenirs, including an 18-carat gold coin, serving as a symbol of appreciation for their achievements. Furthermore, a select few qualifiers who achieved the Rolex promotion were honored with Rolex DateJust watches at the summit.

Beyond the luxurious gifts, the achievers went on thrilling activities like the world's longest and highest zip-line, desert safaris, a luxurious yacht sunset cruise, and 5-star dinners, ensuring an unforgettable experience.
"This leadership Summit wasn't just another trip or event; it was a celebration of our leaders remarkable journey towards success.  It also served as a valuable opportunity  to discuss the company's vision and roadmap for the future."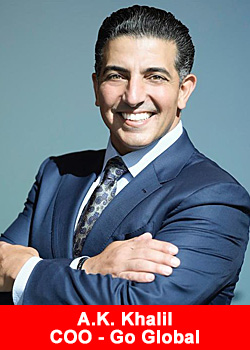 – said COO A.K. Khalil

GO Global understands that the road to success in the direct selling industry is followed with knowledge, motivation, and a supportive community. By bringing together nearly 80 G6 achievers at the G6 Summit, they created an environment where like-minded individuals could network, exchange ideas, and draw inspiration from each other's journeys.

About GO Global
GO Global is an affiliate marketing company offering various digital products and solutions.  Of which include an education platform providing the best online training for personal and professional growth as well as its INFIN8 MONEY cash card that allows anyone to easily convert their crypto currencies into cash for use at an ATM or anywhere major credit cards are accepted worldwide.

The company aims to empower individuals with the tools and resources they need to succeed in all areas of their life. To know more, visit us at goglobal.network
Recommended Distributors Go Global