MyDailyChoice Introduces Newest Brand Partner Mission Meats, Into The MDC Marketplace
September 12, 2023
By Nicole Dunkley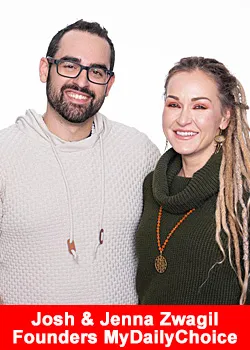 You may not know you're impacting the world when you buy Mission Meats products. You may just want a delicious, healthy grass-fed beef snack—and that's ok, we're cool with that—but we need to tell you that you are also making the world a better place with every snack you buy. At Mission Meats, we give 1% of profits to social good organizations.
Your snacks fight deforestation in Haiti with BonZeb. Your snacks help Perspectives Minnesota transform the lives of homeless mothers and their children.
Your snacks create leaders and entrepreneurs in Africa with Educate! Your snacks help support over 100 independent Dream Centers across the country. So eat well and thank you for helping us make a positive impact on the world! 
"We are thrilled about our collaboration with MDC to present our products to a dynamic community of entrepreneurs.

Partnering with MDC provides us with a unique opportunity to introduce our offerings to a network of dedicated individuals who are already making a positive impact by promoting health and well-being.

We believe that the synergy between our innovative products and MDC's passionate sellers will amplify our reach and enable us to contribute to the health and wellness of an even wider audience.

This partnership aligns perfectly with our mission, and we can't wait to see our products make a difference in the lives of more people through this exciting venture",
says Mission Meats CMO, Peter
Mission Meats CMO, Peter Awad
Their mission is to provide a healthy on-the-go snacking option and help foster positive relationships with each other and nature. That's why they source only the finest grass-fed beef for their meat sticks, and it's also why they give a percentage of profits to social good organizations.
Original Grass-Fed Beef Sticks 
Made with only the best grass-fed beef, Mission Meats Original Beef Sticks are 100% non-GMO, keto-friendly, and perfect for on-the-go. With zero carbs and sugar, these delicious, high-protein snacks are perfect for all members of the family and to serve guests on a healthy snack platter. 
No Gluten

No Nitrates or Nitrites

No Hormones

No MSG

No Soy

No Dextrose Fillers

Keto Friendly

Paleo Approved

Whole 30 Compliant
"The Original Beef Sticks have been a long time favorite. I always have one in my desk or in my bag (or BOTH!)",
says Jennifer D 
"I love how portable these are and how much protein is in each stick. So easy to keep on hand",
says Rob K 
"These snacks keep me on my health track. No more reaching for junk food, stopping for fast food or getting hangry!",
says James P 
About MyDailyChoice 
MyDailyChoice is a marketplace where you can discover new brands, shop for your favorite products, and empower your entrepreneurial spirit. Founded by two dynamic entrepreneurs, Josh & Jenna Zwagil, who had a desire to empower individuals by eliminating obstacles and fostering positive change. For more information, please visit www.mydailychoice.com 
Recommended Distributors MyDailyChoice