Network Marketing Professional Arnold Trujillo Joins Greenway Global
September 22, 2023
By Team Business For Home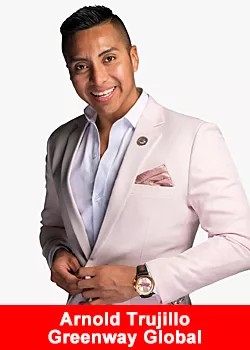 The power and communicative energy of this young man are added to a strength of mind and a desire to conquer the world. Arnold Trujillo is one of the young legends of Network Marketing and within Greenway Global, his action will be decisive in Latin America and throughout the world.
Arnold Trujillo, 33 years old, has managed to position himself as one of the most important leaders in Latin America. With 10 years of experience in Network Marketing, he created teams in more than 30 countries.
His passion, his determination and the nobility of his heart, allowed him to help thousands of people achieve their personal goals, travel the world. He helped 10 people a achieve 6 figures annual income which completely changed their lives.
He firmly believes in people's development, and the Educational System he has been a key in his explosive growth. Arnold is a lover of travel, healthy lifestyle and helping and supporting people.
Today, as a result of his financial education, Arnold has been able to diversify his income and this generates consistency in the message he preaches.
Many MLM business owners consider him a great promise and a leader who wants to make positive changes in our industry, even after reaching the rank of Diamond Director at Jeunesse Global, being one of the highest paid in that company, he has decided to start from new with its vision and with the help of Greenway Global.
He met Vice President and Co-Founder of Greenway Global, Dany Laroque, and Isabelle Laroque, Director of International Development, in Monaco, when he was invited there by his friends and international leaders, Maria and Piero Sbrizzi, great references in the MLM world.
Dany Laroque introduced him to the huge and unlimited potential of Greenway.
Arnold said: " I saw in Dany all the human and professional qualities of a great creator of wealth due to his amazing experience in the MLM world"
He understood that, together with all this MLM legends, his decision was obvious, and take up the challenge of opening Latin American markets with the energy and professionalism that characterize him.
Arnold is not afraid to go for his dreams and his determination is unique. Thousands of people know his story,  him and his 3 brothers lost their mother who died of cancer.
"My mother went to Heaven when I was 14 years old and everything in my life became very difficult. For many years, I thought life was very hard for me, I had to mature very quickly and make decisions at a young age, however, all those challenges were preparing me to teach and lead by example.

That is why with total conviction I can tell you: I will make you happy and fulfill all your dreams but first I will make you strong"
 After talking with the President and Founder of Greenway Global, Leonid Morgunov, he felt total respect, gratitude and admiration for the man who, in a little over 6 years, thanks to his passion, ambition and incredible leadership, was able to create a healthy and wealthy company.
Recognized throughout the world, constantly growing, and who has a limitless vision to take Greenway Global to the highest level. Thinking about the achievement of Leonid Morgunov, Arnold mentioned a quote:
"The future belongs to those who believe in the beauty of their dreams"
Arnold has the strong belief that Greenway Global perspectives are gigantic and he fully shares the company's ecological values.  He who will be a father for the second time in a few weeks, wants to leave his children and his family a cleaner planet, a better world… he will reach his goal thanks to Greenway Global
 About Greenway Global
Greenway Global, a green MLM company, has become within 6 years, one of the most famous in the network marketing industry known as the fastest growing company in its country: over 2 million partners worldwide, 53 countries of operation and 200 eco-markets today, with over 550 products for health, beauty, and home care.
The company's environmental projects have a worldwide scale – every month Greenway Global provides material and physical support to organizations dedicated to saving our flora and fauna. Greenway Global is the talk of the world's media, and the company's name is already firmly associated with concern for the ecology of our planet. For more information please visit mygreenway.com