C1 Pulls Out All The Stops For An Epic Dubai Event
October 11, 2023
By Team Business For Home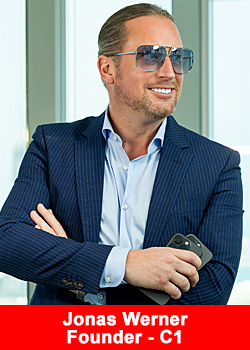 C1, the leading influencer marketing company, once again surpassed all expectations with what was arguably the event of the year: the C1 Global Conference.
Held in the dynamic global hub of Dubai, United Arab Emirates from 9-10 October, the C1 Global Conference was the perfect showcase for the incredible future awaiting C1 members and affiliates.
Anticipation had been building for months, and now hundreds of C1's top leaders – from 30 countries across the globe – descended on the Atlantis The Palm resort. The reason? The ushering in of a new era for C1.
"It won't be the strongest who survives. It will be the people who can adapt the best"
said, C1 founder Jonas Eric Werner.
The world is changing at a rapid pace, and C1 was shown to be leading the charge. Not only are they introducing exciting new products and services, but the brand has also been refreshed to meet its future-forward strategy. Event attendees were the first to catch a glimpse of the redesigned website and appealing new logo.
The fabulous surprises kept coming: the hugely fruitful partnership with the number one game on Polygon, Planet IX, was strengthened with exclusive in-game assets reserved for C1 members.
The overarching theme has been one of future thinking, and with that in mind C1 is taking Web3 to the next level. Whether that be unveiling a brand new NFT partnership, to giving a tantalising glimpse into its crypto future, the C1 Global Conference is an event that will be remembered for its groundbreaking news.
Recognising movers and shakers
There was more to come: Day 2 was the day for Recognition, the tradition of celebrating and honouring those members who have risen in the ranks, and an integral part of C1 culture. Success does indeed breed success – and so does training. C1 Management were on hand with tips, motivation and wise words that were sure to ensure that even more top leaders will level up in the near future.
Of course, what would a C1 event be without a lavish gala dinner? With Hollywood Glam as the theme, VIPs were treated to a night of superb food, extravagant drinks, dancing and merriment. A perfect end to a mega successful C1 event.
"We have given you the tools that no other network marketing company has given anyone. We are going full throttle"
stated Jonas Eric Werner.
"It's into an epic future, and the C1 universe will be there every step of the way."
About C1
C1 is an established online social community and marketing company with its head office registered in Dubai, UAE, with a unique and empowering vision to unleash the opportunities provided by global marketing. At C1 we are proud to be democratising access to the next revolution in the digital space, online crowd marketing.
With an extensive and swiftly expanding community of passionate and highly motivated entrepreneurs, we aim to make C1 the pre-eminent name in online marketing. For more information, please visit www.crowd1.com