QNET's Swiss Luxury Brand Bernhard H Mayer Unveils New Jewellery Collection
October 11, 2023
By Team Business For Home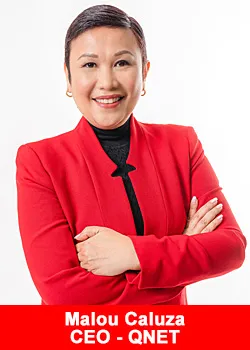 QNET, a global wellness and lifestyle focused direct selling company announced the launch of the Embracelet collection under its luxury Swiss watch and jewellery brand, Bernhard H. Mayer. The new Bernhard H Mayer Embracelet collection is a line of exquisite bracelets designed to celebrate each unique chapter in the unfolding story of your life.
The collection's elegant gold-and-gem encrusted bracelets embody a modern approach to classic and timeless designs that showcase Bernhard H. Mayer's tradition of precision and craftsmanship perfected over more than 150 years.
Reflecting QNET's impressive portfolio of products engineered to empower people to take charge of their life, each piece in the Embracelet collection is carefully designed to create a stunning look on its own. But they can also be mixed and matched to allow the wearer's personalised aesthetic to shine through.
Discussing the inspiration behind the new collection, QNET Deputy Chairperson Malou Caluza  says,
"Jewellery is a very personal expression. It should reflect an individual's distinctive personality which is shaped by their life experiences.

The master designers and craftsmen from the Mayer atelier outdid themselves with this collection, showcasing their unparalleled skills and expertise to create pieces that capture the uniqueness of the person wearing them."
The new collection features four luxury pieces: The delicate Pink Amethyst bracelet features diamonds and rose-hued amethysts to capture the first blush of youthful romance. A string of breathtaking flower cut diamonds set against white gold gives the Diamond bracelet its regal allure.
The brilliant Swiss Blue Topaz bracelet is supported by a cast of dazzling diamonds creating a refined and polished presence.  Finally, for a whimsical and playful choice, the Amethyst bracelet skilfully combines the joyful glitter of amethyst, white topaz, and diamonds.
QNET is also expanding Bernhard H. Mayer's popular Pearl Icons collection which features Akoya pearls, prized for their perfect shape, excellent lustre, and remarkable colour consistency.
Bernhard H. Mayer has crafted two new fashionable pieces for this collection. The enchanting Greta Ring flaunts an exquisite spiral of yellow gold crowned by a majestic, white Akoya pearl. Worn on its own, this unique ring makes a dramatic statement. But it also elegantly pairs with accompanying pieces from the Pearl Icons collection, including the charming new Greta Necklace which features gleaming white Akoya pearls intricately spaced along a stunning yellow gold strand.
Commenting on the luxury portfolio of products, Caluza added,
"Whether celebrating a graduation, work promotion, engagement, or anniversary, there is a Bernhard H. Mayer piece that will make the perfect gift to help you commemorate life's unique milestones."
About QNET
QNET is a prominent lifestyle and wellness company that uses a direct selling business model to offer a wide selection of exclusive products that enable individuals to embrace a healthier, more balanced life. Established in 1998, QNET marks 25 years of making an impact around the world through its product offerings and e-commerce-powered business model, in 2023.
QNET proudly holds memberships in the Direct Selling Association in several countries, the Hong Kong Health Food Association, the Health Supplements Industry Association of Singapore, and more. QNET is also active in several global sports sponsorships including in its role as the official direct selling partner of the Manchester City Football Club and the Confederation of African Football (CAF), underscoring its commitment to excellence and global reach.
To learn more about QNET and its mission of RYTHM – Raise Yourself To Help Mankind, please visit www.qnet.net.
Recommended Distributors QNet