Exploring New Horizons: VABO-N's Enthralling Incentive Trip To Mallorca
November 3, 2023
By Team Business For Home
VABO-N, an Austria based network marketing company, recently embarked on an exhilarating journey to Mallorca, Spain, celebrating the achievements of 35 outstanding partners who qualified for this exceptional incentive trip.
With a unique blend of business and pleasure, the trip showcased the company's unwavering commitment to rewarding excellence and fostering camaraderie among its dedicated network.
Over the course of several unforgettable days, participants were immersed in a dynamic mix of activities, each designed to provide them with a comprehensive experience that goes beyond traditional incentive trips.
From pottery lessons to invigorating sunrise activities with VABO-N owners like a morning run with Martin and yoga with Nina. During the guided city tour, everyone was able to immerse themselves in Mallorca's rich culture and history, while everyone contributed their unique insights and ideas to the coaching sessions.
The evenings were filled with delightful gastronomic experiences and lively celebrations, creating lasting memories that transcended the realm of business. These VABO-N partners had the opportunity to revel in the beauty of the Mediterranean and enjoy the sandy beaches, a reminder that hard work for success should also be rewarded with "hard" relaxation.
But the true essence of this incentive trip lay in the connections formed and the bonds strengthened. In an industry that celebrates individual success, VABO-N takes pride in fostering a supportive community of like-minded entrepreneurs who share their vision of financial freedom and personal growth.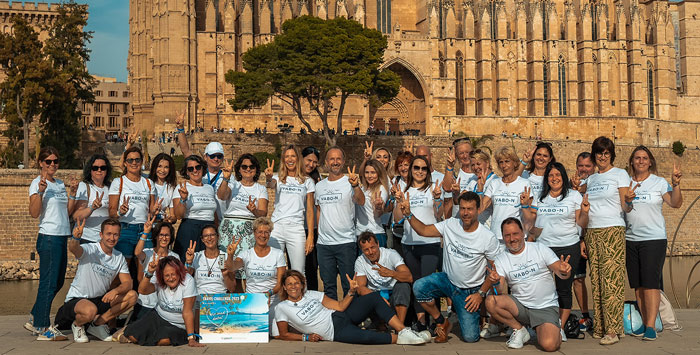 It's a testament to the fact that success is more than just numbers on a balance sheet; it's about empowering individuals and encouraging them to take control of their lives.
"We are not just a company; we are a family of partners who believe in each other's potential,"
says Martin Dvoracek, owner and CEO of VABO-N.
"This incentive trip is a reflection of our commitment to not only celebrate achievements but also to inspire and nurture our partners' journeys towards financial independence."
As the trip concluded, the partners returned home with renewed enthusiasm, a sense of purpose, and a treasure trove of unforgettable moments. VABO-N's commitment to excellence and its dedication to supporting its partners remain unwavering, making it a shining example of how a network marketing company can truly change lives.
About Vabo-N
VABO-N stands for "Valuable Body Nutrition". The Austria based company was founded in 2015 by Martin and Nina Dvoracek. The VABO-N founders – who earlier successfully built a 5000+ team in MLM – are convinced that for a better and happier life, we need both health and a certain income in order to achieve our goals and dreams.
This is the basis on which VABO-N was founded: a network marketing company committed to a science-based approach, crafting naturally derived, well-tasting nutrition supplements that cater to the areas of health, beauty, and body to sustainably improve the lives of many.
The company is currently not only shipping their innovative All-in-one products and Boosters to Germany, Austria and Switzerland, but also to Hungary, Slovakia, Sweden, Spain, Italy, Luxembourg, Liechtenstein, Belgium, France and the Netherlands – with more countries to come! VABO-N offers business opportunities in all of those countries. For more information please visit www.vabo-n.com