FAQ = Frequently asked questions are listed questions and answers, all supposed to be commonly asked in some context, and pertaining to a particular topic.
FAQ: I am looking for information about a Direct Selling / MLM / Network Marketing company or opportunity.
A: Please use the search box (Search this Website Fast) in the upper right corner, there are as of April 2012 over 8,000 posts or articles on the Website and ten-thousands of comments.
FAQ : How do you get / validate estimated earnings?
The estimated earnings are based on Internet research, earnings claims from conventions, down-line, up-line, cross-line information, direct selling magazines and through our 70+ reporters. Numerous top earners and companies share earnings and results with us.
FAQ: How do I Login?
If you subscribe to the Business For Home website, you will receive your Username and Password by email, so check your mailbox.
Step 1
Scroll down, you will find the box where you have to put in your Username and Password. Or click on below picture or use this link: : www.businessforhome.org/wp-login.php
Step 2
Fill in your username and password and push the Log In>> button.
Step 3
You are now in the control panel, go to the top left corner, push visit site and you have access to all content.
Note: The first webpage, www.businessforhome.org does not have any additional content once you log in. You will find the MLM Top Earners 1-500 list under the Blue button: MLM 500 Top Earners! or here www.businessforhome.org/mlm-500-top-earners/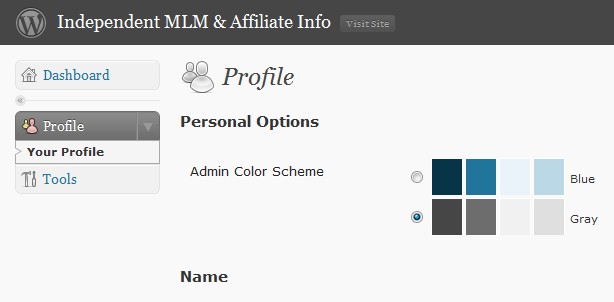 That's it!
FAQ: Who is the founder of the BusinessForHome website?
A: Ted Nuyten. He lives and work in the Netherlands.
FAQ: Do you reveal your sources?
A: Never.
FAQ: How reliable are the estimated earnings?
A: For some Top Earners 100%, for some others less. Our objective is to show the world you can make a honest living with Direct Selling. It's in the nature of a commission based income that figures are changing every month.
FAQ: How many unique visitors do you get per Month / Year?
As of April 2012 approximate. 125,000 unique visitors per month or 1,5 million a year. Forecast is to reach 2 million in December 2012.
FAQ: I am on your rankings and my estimated earnings are too low.
A: Send us proof, preferable a back office screen shot, or send an email to Ted Nuyten.
FAQ: I want to advertise or I want to share a great story.
See: Advertise with us
FAQ: Can I get, buy or rent your email database?
A: No.
FAQ: Can you remove the email popup?
A: We do understand some people find it annoying, however the pop-up will show up only for your first 2 visits (we manage that with a cookie). About 40- 80 people per day are signing up for the newsletter through this pop-up, therefore we will not disable the popup.
FAQ: I want to be on the Top Earner rankings
A: Please send income proof to Ted Nuyten > [email protected]
FAQ: What is your address?
Business For Home.org Foundation Att: Ted W. Nuyten Street: Linge 88
Zip Code: 2105 WG City: Heemstede Country: The Netherlands Mobile/ Cell Phone: +31614476810
FAQ: I want to cancel my Paypal Subscription
A: If you would like to

cancel

this subscription, log in to your

PayPal

account and go to the History subtab of the My Account tab. Choose Subscriptions from the pull-down Show menu and press the Submit button. Choose this subscription, and click on its Details link. You will be taken to a Transaction Details page from which you may

cancel

your subscription. Cancelling your subscription will immediately stop all future scheduled payments for this subscription. Your business for home.org account will be terminated immidiately so you might want to delay it til a couple of days before the next payment period.
FAQ: What is your privacy policy?
A: When you visit www.businessforhome.org website, we do not collect any personally identifiable information about you unless you specifically provide such information. If you provide your name and email address, we use that information only to communicate with you, with the exception of using software from www.Getresponse.com to store our mailing list and send messages for us, we do not reveal your name or email address to any third parties. (Getresponse is a reputable list management service that will not sell or share your data either.)
When you visit our website, third parties such as Google AdSense may send cookies to your Web browser, or use beacons to collect information. According to Google: A 'cookie' is a small file containing a string of characters that is sent to your computer when you visit a website.
When you visit the website again, the cookie allows that site to recognize your browser. Cookies may store user preferences and other information. You can reset your browser to refuse all cookies or to indicate when a cookie is being sent. However, some website features or services may not function properly without cookies.
In order to maintain our website, we may record non-personal, technical information when you visit our website. This includes your computer's IP address, browser type and the website that referred you.
This information is only used in the aggregate, to analyze visitor traffic patterns and to improve our site's performance. Our website may contain external links to other websites. Although we try to link only to websites that share my respect for your privacy, we are not responsible for the privacy practices of those sites. Before submitting personal information to such sites, we would encourage you to read their privacy policies.
DISCLAIMER:
The information contained in this website is for general information purposes only. While we endeavour to keep the information up to date and correct, we make no representations or warranties of any kind, express or implied, about the completeness, accuracy, reliability, suitability or availability with respect to the website or the information, products, services, or related graphics contained on the website for any purpose.
In no event will we be liable for any loss or damage including without limitation, indirect or consequential loss or damage, or any loss or damage whatsoever arising from loss of data or profits arising out of, or in connection with, the use of this website.
Through this website you are able to link to other websites which are not under the control of Business For Home. We have no control over the nature, content and availability of those sites. The inclusion of any links does not necessarily imply a recommendation or endorse the views expressed within them.
Every effort is made to keep the website up and running smoothly. However, Business For Home takes no responsibility for, and will not be liable for, the website being temporarily unavailable due to technical issues beyond our control.