How to build your Direct Selling business with your Facebook contacts
January 18, 2011
By Team Business For Home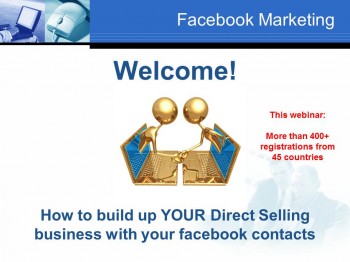 Discover how the big recruiters use facebook to recruit!
On Tuesday 25 January we will give a LIVE webinar how to build you Direct Selling Business with your Facebook contacts.
This webinar has been viewed over 400 times by Professional Direct Sellers from all over the world.
Start 8.00 pm Central European Time / 2.00 pm Eastern Standard Time.

You can download your ticket here: https://www.e-junkie.com/tednuyten/product/450744.php

How do you position your business on Facebook
How do you get 500 Facebook friends in 1 month

How do you build up your Direct Selling business

Bonus: Including 40 Powerpoints slides!

You can download your ticket here: https://www.e-junkie.com/tednuyten/product/450744.php