Michael Sportun Top Leader From Canada
March 17, 2011
By Team Business For Home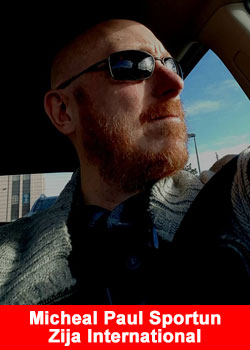 Michael Sportun is a Leader within Zija International that teaches the Build Local – Grow Global Philosophy –
In the past he was a Hockey Player & traveled the world doing what he loved.
However his true love for business was something neither himself nor his family and friends ever thought would even be a choice, let alone the "Ultimate Business Model For Success". NetWORK Marketing! You put in the WORK & the story just writes itself!!
"I have in my years in Network Marketing, seen the good, the bad and the downright ugly this industry has to offer and I must say that it is when you truly educate yourself as to what's possible and align with energy that is like yours then great things truly begin to happen.
There is nothing like building a network of like-minded people with the same mission in life, to ultimately end on empty and pour all you have into the world through building a community of tomorrow's leaders, today".
In 1989 Michael suffered a serious head injury that pretty much shelved his career. He bounced around from league to league however could not find an organization to overlook his medical condition and ultimately insure him. He proceeded to study Business Management in School & finished the top of his class, thus spawning his entrepreneurial adventure into the direct selling space.
In 2004, Michael had an amazing son named Gabriel that inspires him to be the change his son needs to see in his world. Up until recently Michael owned "Sportun Hockey", a skills & development service he has built from the ground floor to working with clients across North America.
Michael believes that in-order to find true success in any field one must be helping others. This ring true for both traditional business & direct sales. He truly believes that being able to show others how to achieve their dreams is paramount to personal development & ultimate success.
Michael chose to align himself with true industry leaders and partnered with Zija International. Michael Has Built a Team around the "Lighthouse Mastermind" Philosophy and has never looked back…
With Friends like all the Leaders with The Lighthouse Mastermind, they have a true grasp of what it takes to succeed in this amazing industry and to teach others to do the same.
"It's not that difficult" says Michael, Regarding the direct sales space. You're sharing products that People are buying anyway and that benefit the world through the story behind it. The law of averages applies and it is paramount to talk about what drives you to share what you have. You need a "Why that makes you cry", When you find your why, sharing the story and the team philosophy will be second nature.
Simply by sharing a platform that everyday consumers can utilize to save them time and money they are already spending, showing them how to get paid to share, get their product for FREE & then to ultimately get paid to build a micro-franchise… Well who wouldn't be empowered to share with everyone.
This Industry is Amazing!
Contact details:
Michael Paul Sportun
1-416-992-7011
Lighthouse Mastermind
www.PartnerWithSporty.com