Herbalife Review 2011
April 29, 2011
By Team Business For Home
Herbalife is a global nutrition company that has helped people pursue a healthy, active life since 1980. Herbalife nutrition, weight-management and personal care products are available exclusively through more than 2.1 million independent Distributors in 75 countries.
The company supports the Herbalife Family Foundation (HFF) and its Casa Herbalife program to help bring good nutrition to children in need. The company also sponsors world-class athletes, teams and events around the globe, including the LA Galaxy and FC Barcelona soccer clubs, as well as champions in more than 15 other sports. Herbalife's mission is to change people's lives by providing the best business opportunity in direct selling and the best nutrition and weight-management products in the world.
In 2009 net sales $2,324 million – In 2010 net sales $2,734 million – a 18 % growth
Products
Weight Management, Energy & Fitness, Nutrition, Personal Care.
Herbalife is committed to setting the standard by which all nutrition companies are measured. The company is advancing the science of nutrition through scientific research conducted around the world. Since 2003, Herbalife has increased the research and development expenditures dramatically to advance the product-development process.
Product integrity, safety and efficacy have always been Herbalife's top priorities. The company invests in new technology and research as part of the commitment to providing innovative, science-based nutrition products. Ingredients used in the products are also found in many foods. The materials (including botanical ingredients) are globally sourced from reputable suppliers and the products are manufactured in accordance with established quality standards. Product quality is verified at the in-house laboratory with state-of-the-art testing equipment. The Herbalife quality team conducts regular audits and inspections of suppliers and contract manufacturers to ensure compliance.
Compensation Plan
The initial start-up fee is $49.95. There are three additional levels that you can enter the company as. As Senior Consultant, Success Builder and Supervisor. These levels require one time product orders of approximately $300 (Senior Consultant), $580 (Success Builder) and $1450 over 2 months or $2320 over one month (Supervisor). There are also ways that you can count the volume of the distributors you sign up in your organization towards your volume to help you to qualify for a higher position.
A lucrative compensation plan, paying out up to 73 percent of product revenues to Distributors.

Earn retail and wholesale profits, plus income through royalties and bonuses.

Repeat orders from satisfied customers experiencing ongoing success with the products leads to higher Distributor incomes.

Herbalife pays Supervisors and above directly.
The annual gross compensation paid by Herbalife to Active Leaders during 2010 averaged approximately $7,071.
Corporate leadership
Executive team from left to right: Michael O. Johnson Chairman and Chief Executive Officer, Brett R. Chapman General Counsel, Des Walsh President, Richard P. Goudis Chief Operating Officer,, Y. Steve Henig Chief Scientific Officer, John DeSimone Chief Financial Officer
Alexa Ratings, 3 months growth 17%. Worldwide rank 27,147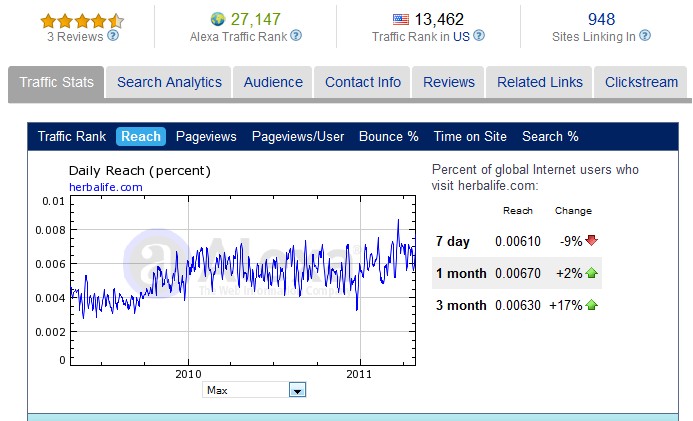 Herbalife Top Earners – The est. distributor earnings are as follows:
[private_platinum]
[/private_platinum]