Xocai Review 2011
May 13, 2011
By Team Business For Home
Xocai is the brand name of MXI Corp and markets several healthy chocolate products based on the primary ingredients of raw, unprocessed, non-alkalized, non-lecithinized cacao powder, freeze-dried berries and blueberries. The founders are Jeanette L. Brooks and Andrew N. Brooks.
The company is based in Reno, Nevada, USA and founded in 2005. MXI Corp is the fastest growing network marketing company in the world that sells antioxidant loaded, healthy dark chocolate. The MXI Corp healthy chocolate products are made with cacao and acai berries. The MXI Corp (Xocai) line currently has 10 products
The products are designed to supply antioxidants to the body through an exclusive, patented, cold-press technology that preserves the nutrients and antioxidant content inherent in these fruits. The combination of these ingredients, in their natural state, provide a product that is packed full of the most powerful antioxidants in the world.
Est. revenue for 2010 $68 million. In addition to the United States, Xoçai is experiencing robust growth in other countries around the globe, including Canada, Australia, New Zealand, South Africa, Scandinavian countries and throughout Europe.
Products
Healthy Chocolate.
As the category creator and world leader in healthy chocolate, the vision of MXI Corp is to transform and improve lives worldwide through unique and healthy chocolate products. Xoçai has been developed with the All-Natural and Active Lifestyle consumer in mind. Activ was formulated with no added colors, no artificial flavors, and no preservatives.
Each bottle of Activ is pre-filled with an antioxidant-rich powder loaded with unprocessed cacao, açaí berries, blueberries, concord grapes, and many other high-antioxidant ingredients that are "activated" by adding purified water. Xoçai Activ is ideal for the purist, who wants nothing but the raw, high-antioxidant ingredients or for the energetic, who wants to live life without limitations.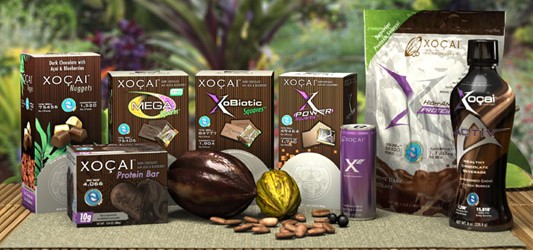 Compensation Plan
A binary compensation plan. MXI seeks to provide a promising business opportunity while engaging in socially and environmentally responsible practices. MXI Corp. views the associates as our invaluable business partners, and as such, the company rewards them with the most generous compensation plan in the Direct Selling Industry.
The first step is simple: achieve the rank of Royal and then help others to become Royals in your organization. This simple, yet powerful duplication process, is the foundation for building your Healthy Chocolate Business. The enrollment fee is only $39. Infinity Bonuses are earned on your lesser volume leg. When a minimum of $500 of Bonus Volume (BV) is reached in the Lesser Leg, you will be paid a 10% Infinity Bonus on the Bonus volume up to a maximum of $100,000 per week, or a $10,000 Infinity Bonus per week.
The 8 ways to earn in Xocai are:
Retail Bonus
Quick Check Bonus
X Bonus
Auto-Ship Credit Bonus
Infinity Bonus
$50 Infinity Bonus
Executive Generation Bonus
Leadership Pools
By achieving the rank of a Presidential Double Diamond Executive you qualify for your first Expansion Center. Earn additional Expansion Centers by generating $50,000 in Bonus Volume (BV) in one week in that new Expansion Center's Lesser Leg. As your Healthy Chocolate Business grows, you can potentially earn a total of three Expansion Centers with each potentially earning $10,000 per week in Infinity Bonuses.
Corporate leadership
Executive team from left to right: Jeanette L. Brooks – Founder & President, Andrew N. Brooks – Founder & Chief Operating Officer
Alexa Ratings, 3 months growth 21%. Worldwide rank 247,551
Top Earners

Xocai – MXI Corp. Top Earners, the est. earnings are as follows:
[private_platinum]
[/private_platinum]