KB Gold Review 2011
June 9, 2011
By Team Business For Home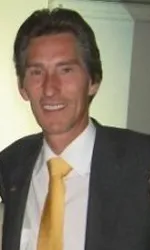 KB Gold is founded my Mike Koschine in Switzerland in 1994. KB Edelmetall (Liechtenstein) is a financial institution with 16 years of operations. The KB Group is represented with offices in Switzerland, Turkey and Germany. In Turkey: Refinery and Mining, in Switzerland: Storage and Shipment.
Additionally, KB Vision was founded in 2010, exclusively for distribution and operational purposes. The company is headquartered in Stuttgart, Germany and conducts KB's business operations worldwide. It is responsible for support, marketing, customer and affiliate communications, gold purchase, gold deliveries, as well as the preparation and opening of markets in new countries with the goal of establishing worldwide operations.
KB Gold is also the first company in the world that has a 'Green' product line for their gold. No toxic chemicals are used in the production and in order to produce as environment friendly as possible, they have build their own exclusive production line which they are now expanding to keep up with the growth. Est. company revenue $5 million, est. 5,000 members.
Products

Gold
KB gold is stored for free in the St. Gotthard Massif in Switzerland and you receive a statement confirming this. Even the Swiss government store their gold in this secure location. Gold valued at € 3,000 or more can be delivered directly to your front door, free of charge. Alternatively, you can sell it back to KB and receive payment at the current gold price.
Your local authorities will not have access to your gold in Switzerland and your purchase will not be registered outside Switzerland (unlike purchases made trough a bank or the Internet). This can be important in times of crisis, because governments have been known to seize assets in exceptional situations. KB gives you the freedom to choose – at no extra cost.
Gold from KB-Edelmetalle AG:
Own goldmine and own refinery production
Certified by Swiss authorities, 24 carat – 999.9 fine gold
Accepted as global currency, Buy gold with a 3% rebate as preferred customer (Purchase > € 3,000)
Sell gold to KB with 5% premium as preferred customer. Low margin between buy and sell price
0.5 – 1 – 2,5 and 5 gram gold bars for market flexibility. Gold purchase plan for monthly saving
Safe and free storage in Switzerland. Free delivery after purchase > € 3,000
Recommended by BDS a large independent German consumer organisation
Compensation Plan

Uni-Level compensation Plan. KB Edelmetall believes that hard work should be rewarded. The KB Compensation Plan rewards you for selling gold by promoting the KB Gold Purchase Plan and for sponsoring others as Independent KB Gold Partners who do the same.
The Gold Purchase plan starts from 50 € and upwards as monthly payment and each monthly payment will immediately be redeemed in physical gold. The KB Gold Partner System offers you 5 different ways of income:
Customer Acquisition Bonus € 100 – € 650 on each new customer
Residual Income of up to 5,5 % on monthly purchases
Up to 5,5 % on one time purchases
KB Global Funds (Worldwide Pool)
KB Vision Pool (Worldwide Pool)
The referral commissions and residual income that you can potentially make with the KB Gold Business opportunity can be paid out in gold, silver or in cash.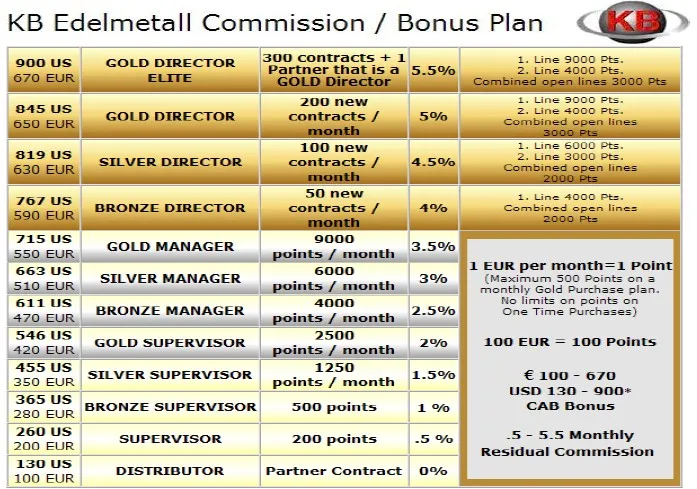 Corporate leadership
Unknown other that Mike Koschine is founder and CEO.

In November 2010 Mike Koschine was arrested in Germany. The outcome of this case is pending:
"The investigations of the Munich public prosecutor and the decision of the Munich District Court in relation to Mike Koschin as a suspect are now completed. According to the decision, assets seized in Frankfurt € 815,950 were seized because of suspicions that it is the cash funds belonging to investors. Further, the judge concludes that much of the money collected by the KB Edelmetall GmbH was investor's money. It was not spent on the purchase of gold, but was spent abroad, where the accused (Mike Koschine) and his unknown accomplice, spent the sums of money. This behavior is punishable as fraud in a so far unspecified number of cases to be designated pursuant to § § 263 I, III, No. 1.2, 25 II StGB"
https://www.netcoo.info/content/view/1379/29/

KB Gold Alexa Ratings, 3 months growth -60%. Worldwide rank 2,104,237

KB Gold Top Producer:[private_platinum]
Unknown: Former Top Earner Denis Nowak has left the company
KB Gold Top Earners, the est. earnings are as follows:

Unknown
DISCLAIMER:
The information contained in this website is for general information purposes only. While we endeavour to keep the information up to date and correct, we make no representations or warranties of any kind, express or implied, about the completeness, accuracy, reliability, suitability or availability with respect to the website or the information, products, services, or related graphics contained on the website for any purpose. In no event will we be liable for any loss or damage including without limitation, indirect or consequential loss or damage, or any loss or damage whatsoever arising from loss of data or profits arising out of, or in connection with, the use of this website. Through this website you are able to link to other websites which are not under the control of Business For Home. We have no control over the nature, content and availability of those sites. The inclusion of any links does not necessarily imply a recommendation or endorse the views expressed within them. Every effort is made to keep the website up and running smoothly. However, Business For Home takes no responsibility for, and will not be liable for, the website being temporarily unavailable due to technical issues beyond our control.

[/private_platinum]