Rain Nutrition and Synergy Worldwide Merger
July 11, 2011
By Team Business For Home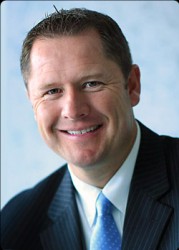 Rain Nutrition Merges with Synergy Worldwide
Synergy WorldWide was founded by CEO Dan Higginson (Picture left) in 1999. In 2000 Synergy joined forces with Nature's Sunshine and began to grow exponentially. Today, Synergy WorldWide is in over 20 countries and fulfilling its mission to leave a legacy through offering the highest quality, scientifically proven products, providing financial freedom through innovative business opportunities, and establishing a culture of generosity and service to others.
Rain Nutrition is marketing liquid supplements, formulated using the powerful extracts found in the seeds of fruits and herbs. Rain Nutrition's products have stronger, more concentrated levels of antioxidants. Through a cold press process, the essential nutrients inside the seed is extracted and the efficacy of those nutrients are preserved.
The management team is formed by founder Toby Norton, CEO Chad Christofferson, CFO Kyle J. Copeland, COO Bart Brockband, and EVP Sales Howard Hannemann. Rain started shipping out products end of July 2009. It officially launched April 23, 2010. It is officially open in US, Canada, Singapore and Hungary. [private_platinum]
The company is close to 26,000 Distributors worldwide. Estimated annual revenue for 2010 $10 million.
Rain Nutrition Management

The Medical Advisory board is headed by Dr. Jewkes and Dr. Filbert.
The Rain Nutrition Compensation plan is a two leg matrix plan and provides distributors with seven simultaneous ways to earn long-term, residual income.
Rain Nutrition pays out a guaranteed 50% of its sales volume on a weekly basis. 7 different ways that you can get paid from Rain Nutrition are: retail product sales and first order bonus, first order bonus match.Team commissions, leadership bonus, generation match and car bonus.
The retail bonus is the difference between the wholesale cost and the retail price when reselling Rain products to a customer.
For example, a distributor purchases four cases of Soul at a wholesale price of $240. The suggested retail value is $280. The retail profit would be $40 paid to the distributor.
Rain Nutrition Top Producers:
Jimmy Ezzell, Mindy Anderson, Traci Reuter, Jason Kelley, Alex Moleta, Chad Harwick, Haidee Zmerlikar, Dr. Stan Gross, Betsy Smith, Carolyn Walker, Jeff Mace, John & Sharon Pohlman, Timothy Chin, Eric Chia and Ray Pua, Aaron Whittier, Seth Wells, Vera Barrera.
| | | | |
| --- | --- | --- | --- |
| Jimmy Ezzell | Traci Reuter | Mindy Anderson | Jason Kelly |
| | | | |
[/private_platinum]