Tim Sales Joins MLM start up Ariix
July 6, 2011
By Team Business For Home
Tim Sales is MLM guru, expert, and one of the most respected MLM trainers in the Direct Selling Industry. He made a remarkable transition from a Public MLM Nutrition Company, where he had the pleasure of a passive retired income, to ARIIX where he will be the Master Distributor working in a team with Steve Swartz – Ex USANA Top Earner.
For his old Nutrition Company a heavy loss as Tim Sales was one of the most credible, retired top earners.

On his MLM training website Tim Sales summarize his MLM career as follows:
I retired from active Network Marketing nearly ten years ago, but not before I had earned millions and built a downline of over 56,000 people in 26 countries.
And I still continue to receive a substantial passive income from my business even though I am no longer actively involved. That ability to build passive income is one of the hallmarks of Network Marketing. Few opportunities can offer you that
Tim Sales is out of retirement, some professionals however have questions about his independent MLM trainer credibility.

ARIIX is founded by Ex – USANA executives. Fred Cooper is the new CEO. He has spent the last 13 years of his career at USANA Health Sciences, where he rose quickly through the ranks from VP of Information Technology to VP of Operations, and then to Chief Operations Officer, and finally to President of the company.
Jeff Yates – CFO, Mark Wilson – President, Riley Timmer and Brent Jorgensen – COO, will be launching the company in July 2011 in the USA and Hong Kong.


Tim Sales training will be part of the ARIIX starter kit.
Steve Swartz – ARIIX
About ARIIX Products:
The current product line includes vitamins, minerals, rejuveniix (a super fruit blend), vinali (promotes healthy skin), and omega q (heart health).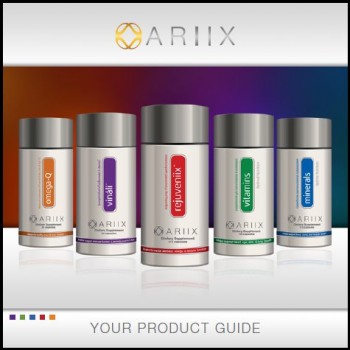 The ARIIX products are designed to work together to provide your body with the chemical building blocks it needs to work efficiently, starting at the cellular level.
[scribd id=59431759 key=key-dmdjjv7ageeyvwpa1rd mode=list]
About the ARIXX Compensation Plan:



ARIIX has branded their compensation plan, which is based on a binary plan called. The main difference from this plan and a binary, is the plan allows you to have up to 3 legs that will payout against the power leg. The ARIIX compensation plan will allow additional pay lines as you max any given leg at $2000 in weekly income.
IX Membership Card (IIX Perks)
After enrolling, members can purchase a IIX membership for $150, it can double product discount and double all bonuses on top of the already lucrative Activ8 Compensation Plan. A IIX Membership is a critical first step in maximizing the Active8 Compensation Plan. See the "IIX Perks" below to review all of the benefits this achievement affords ARIIX Reps throughout the Activ8 Compensation Plan.
Retail Profits
All ARIIX Reps are given the opportunity to purchase the life-changing ARIIX product line at a discounted wholesale price, and then sell the same product at Suggested Retail Price. The difference between the purchase price and the sale price then becomes profit for the ARIIX Rep. IIX Perk: An additional 10% off of the already discounted Autoship, increasing the potential Retail Profits significantly.
Base Commissions
Base commissions are the foundation of our revolutionary program. Activ8 Base Commissions give Representatives the chance to build their business as big and deep as they want. and potentially benefitting from unlimited activity. When a Representative activates their first income center with 150 points in Total Product Sales Volume (TPSV), they can begin and build two, three or four lines from that first income center. Each line can grow as deep as the Representative wants. The line with the largest volume is considered the power line and all other lines are considered pay lines for base commission. Pay lines generate a 15 percent commission of the total volume.
Income Positions
When a pay line reaches $2,000 in weekly earned commission, the ARIIX Rep receives a new income position and a new payline, Each income position can have unlimited pay lines, each paying at 15 percent, and reach deep within any optimized pay line through additional income centers.
Titles, Promotions, & Gold Status
As Representative's base commissions increase, so too does their title and status in ARIIX. With $25 in weekly commissions Representatives can become team leads. With $75 they become a supervisor, $150 a manager, and so on until they become a chief executive office with up to $6,000 in weekly earnings. We also want to recognize individual achievements of all the Representatives – it's our core philosophy. With that in mind, we go one step further and have senior advancements in our promotion plan.
So with $25 in base commission earnings, you're a team lead. At $50 you're a senior team lead. This is duplicated all the way up through senior president level- and allows for up to four CEO ranks. We recognize our Representatives even more with Gold Status. Reps that are managers or higher, and have achieved their highest qualified check so far, are given gold status for the next six months. It lets everyone know how quickly you're growing your business.
Team Lead Bonus
On top of base commissions, the team lead bonus lets every Representative immediately start a profItable business. Assuming a Rep has a IIX membership, AND has four active auto deliveries, they will literally break even!
Matching Bonus
As a reward for sponsoring, supporting, and mentoring their teams, ARIIX Reps are rewarded through the Matching Bonus. This is important, because the Activ8 Compensation Plan allows Representatives to earn a matching percentage of the base commissions from all Representatives they have personally enrolled, as well as anyone else who may be connected to them in the enrollment genealogy. This happens regardless of where they are placed among their lines.
Reps can earn 7 generations of matching bonus within their sponsorship genealogy. First generation pay 15%, second generation pay 10% and 5% for generations 3-7.
Representatives unlock their first three generations of matching, simply by getting and maintaining four active enrollments. You unlock the 4th and 5th level by earning $500 and $1,000 on base commissions respectively. To the unlock the 6th you have to optimize one income position and to unlock the 7th generation you have to optimize two income positions. This allows Representatives to generate significant income by supporting their enrollment organizations.
Luxury Car Bonus
As a perk of building your successful business in the Activ8 Compensation Plan. you may qualify for a little bit of luxury. Starting at director. Representatives can accumulate points each week they qualify for their title. Those points are accumulated and stored until a reasonable down payment is met and then those points are cashed out monthly for a payment. Like everything else, with a IIX membership those bonuses will be doubled too.
Payline Bonus
As an additional reward for those who have optimized more than one Pay Line by generating the potential $2,000 for the week in Base Commissions. The company sets aside 1 percent of Total Product Sales Volume (company-wide) for the week. That 1 percent gets put into a pool to be divided among the bonus qualifiers based on their number of shares. For every 2nd payline optimized that week. they will qualify to earn one share of this bonus. and if they have a IIX Membership. their shares within this bonus will be doubled. For every 3rd payline optimized. they earn two more shares for a total of three shares (6 with IIX membership). Etc…
Income Position Bonus
An additional 2 percent of Total Product Sales Volume each week is set aside for the Income Position Bonus, which grants a share to the Rep for each Income Position which has one Power Line and at least one optimized Pay Line. For every income position, they will qualify to earn one share of this bonus, and if they have a IIX Membership. their shares within this bonus will be doubled for a total of 2. For every 2nd qualifying income position, they earn two more shares for a total of three shares (6 with IIX membership).
[scribd id=59431763 key=key-20dj43s1nr1xwm08rdhy mode=list]
[scribd id=59431761 key=key-cl95t7iztvibitjmb90 mode=list]