Leaving Comments On Blogs Is Gold For Your Own Website
October 10, 2011
By Team Business For Home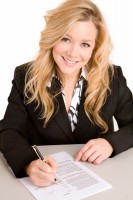 Do Not Leave Money On The Table,
Leave Comments On Blogs And Place Your Own Link!
It Takes Only A Couple Of Minutes…
There is no doubt that building backlinks to your blog or (replicated) website is the best way to improve your website's search engine optimization and gain traffic. There are a number of ways to get quality backlinks and one of the most practiced but least understood ways is the practice of leaving comments on blogs.
If done the right way, posting comments on blog posts is a great way to get high quality targeted links to your website. Most of us believe that to be true. Just about all blogs allow you to include a link to your website in the comment form thus giving you a backlink.
Tip 1. Never forget to put your website link in!
Maybe an open door, but I noticed on www.businessforhome.org hundreds of people leave comments without their link. A waste of time…
Fill the – LEAVE A COMMENT BOX – in like this:
Tip 2. Be positive!
Positive comments performs about 10 times better than negatives.
Tip 3. Do not be a spammer
A big thing to keep in mind is to make sure you do not appear as a spammer. This is because most likely your comment will be deleted along with your time, effort and link. When leaving a comment make sure it is relevant and offers something productive. This will ensure your comment sticks thus ensuring your link does as well.
Tip 4. Leave a lengthy comment
Also don't be afraid of leaving a lengthy comment that has your key word or phase lightly sprinkled though out it. I have on more than one occasion found that one of my comments have turned up in the search results. This doesn't necessarily increase the value of your link but does increase your links exposure to more potential visitors.
Tip 5. Find High Authority website's
It may seem that all you have to do is leave some great comments and include your link and presto you have hundreds of backlinks. Not true. The reason is you must be selective on which blogs you leave comments on. High authority websites are websites that are trusted by Google. Good back-links to your website from High Authority websites are crucial if you want to get high search engine rankings and traffic. In the Direct Selling world www.businessforhome.org is such a website as www.rayhigdon.com.
Tip 6. Do not place your link in the comment box!
Never place your link in the comment box, only in the Website field (see above picture). If you place your link in the comment box, anti-spam software will block your comment.
Tip 7. Comment often
Without spamming, comment often until you make the list of top commentors. This is excellent because your link will appear on the front page of the blog which is normally the highest ranking page meaning a lot more weight is given to that backlink. The bonus is that the top commentors list is in the sidebar which is shown on every page of the blog thus giving you potentially hundreds of backlinks. Find a couple of these in your niche and you are golden!
I have found that most times I only need to leave about five to seven comments to make the list. These blogs are you money makers so you should visit and comment often. You will be amazed at the amount of traffic these blogs will generate for you as well as increase your rankings in the search engines. This is crucial To Make Money On-Line Fast.