Monavie Leader In India Beaten Up In A Meeting
December 18, 2011
By Team Business For Home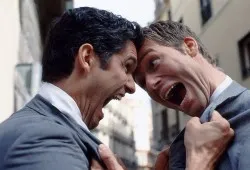 Not Good for the MLM industry….
Evidently some top leaders in India left one company to join Mona Vie and distributors from the other company weren't too happy so they showed up at a Mona Vie meeting their former leaders were conducting and all hell broke loose.
https://www.youtube.com/watch?v=8et5xWRIQa0

According to Indian reporter Ankur Bakhshi:

The video is about Mr. Shamsudeen (Shansudin) a top leader who left Indian based MLM company RMP and joined Monavie. Mr. Shamsudeen started with RMP around 2001.
He was 1 of the top earners in RMP & guided RMP on their operations. With Monavie launching in India, he along with 4 other Top Earners left. The word is that these guys got some false cases registered against RMP by the Indian Govt, which led 2 temporary halt of RMP's working. And also got RMP's website hacked and put up a message aboutt Monavie.
RMP blocked out their IDs and the case by Andhra Pradesh govt came in. Shamsudeen meanwhile went ahead with promoting Monavie in Kerala, where RMP did a huge business and almost every person was in RMP. Some of the RMP distributors came, confronted & bashed up Shamsudin, just before a Monavie plan preview, for the unethical activities he & his team conducted in last few weeks.