Great Webinar Tool For Direct Sellers – ClickMeeting
January 23, 2012
By Team Business For Home
Business For Home is using ClickMeeting for webinars and online meetings. Great tool (and NO we are not affiliates) Cheaper and better then Cisco's GotoMeeting. From the creators of autoresponder GetResponse.
ClickMeeting is brought to you by Implix — the same company that created one of the biggest email marketing platforms GetResponse (used by 215,000+ customers, including yours truly). The company has now grown to offer worldwide operations and has several locations in the United States, Poland and Canada. 130 people are working at Implix.
Implix's ClickMeeting web conference service has been created to give presenters a simple and effective way to communicate within the organization as well as with clients and other contacts outside the company. This web conference service offers a good feature set that will allow you to communicate with others no matter how far away they are. Some of the top features are the ability to have real-time sharing of your computer screen and the ability to change the moderator of the conference.
One of the features is you can add your logo, graphics, brand colors, and more to your Meeting Room and Lobby.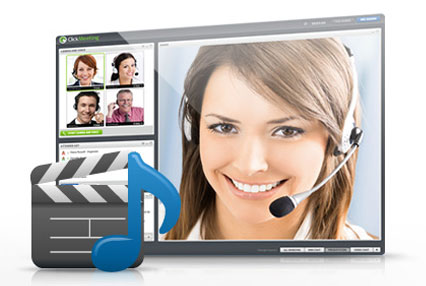 What we like about this web conference service is their flexibility in the different options they offer. While most web conferencing services require you to sign up for a package that offers 100 or more lines that you may never use, ClickMeeting offers their lowest package, which includes just five lines.
This will prevent you from paying for lines that never get used.
As your business grows and you find yourself conducting larger web conferences you have the option to move to a larger package.
Another important feature is their whiteboard functionality. While it is true that most conference call services offer the ability to use a whiteboard during a conference, this one allows you to draw most anything or point out highlights with ease. We were impressed with the quality of the whiteboard sharing. We were able to watch in real time as items were drawn or erased on the whiteboard. There was not a large delay time.
We also like that this web conferencing service gives you the ability to share the computer screen in real time. As with the sharing of the whiteboard system, we were glad to see that there was not much delay in what was being shared. While the participants of the web conference do not have the ability transfer files to each other, we were pleased to see that the moderator can transfer files to participants. If a participant needs to share with the group, the moderator can hand over their moderator permissions to that person in an instant as well.
The Implix – ClickMeeting Team

Christopher Milkowski


IT Director

Daniel Brzezinski


Product Development


Dorota Staszewska


Finance Director

Pawel Borek


Legal Advisor

Mick Griffin

Director Of Sales

Ola Grabowski

CS Development Director
In order to have a private chat with someone else in the web conference room, you will need to have moderator status. We requested this during our conference and were immediately granted these permissions. This allowed us to chat with each participant individually without disrupting the entire conference. We like this method because it will also allow your participants the ability to stay on task instead of having side conversations. However, you are always free to chat openly with the group or the moderator by being a participant in the conference.
ClickMeeting offers one feature that we found to be very useful. They offer chat translation. Chat translation will literally view information from the moderator in one specific language, but will deliver it to the participant in their language of choice. This is accomplished with the help of Google translation. You can choose from over 52 different available languages. This will also help when conducting trainings with people in other countries.
In the future, ClickMeeting is planning to implement some features that will certainly keep them competitive with the best web conferencing services. One feature they are planning to add is the ability to create reminders to send out to participants who have registered for the conference. This will be helpful for reminding those who register in advance about upcoming web conferences.