FTC Cracks Down on Health Claims in Direct Selling
February 6, 2012
By Team Business For Home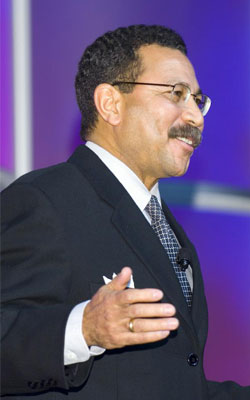 Important Lessons for MLM and Direct Sales Representatives
Adonis Hoffman (Photo) is a lawyer and leadership counsel in Washington, DC, and is an adjunct professor in the Graduate School at Georgetown University.
Marketers Making Health Claims Come Under Scrutiny in U.S.
With well over $25 billion in sales, the nutritional supplement industry has experienced steady growth in the last few years. As more consumers focus on changing their lifestyles and improving their overall health and fitness, network marketers have found eager customers for a wide range of dietary supplements and healthy food products. Indeed, many leading companies have built their entire business around health and wellness, encouraging their representatives to enthusiastically hype up the health benefits of their products.
As more health-related products find their way into our lives, the regulators at the Federal Trade Commission (FTC) and Food and Drug Administration (FDA) are keeping a watchful eye. Their goal is to crack down on false or unsubstantiated health claims that may be misleading to customers. In fact, these regulatory agencies have stepped up their scrutiny of marketers that tout improved health from the use of their products. Over the years, the FTC has filed 120 cases challenging health claims from dietary supplements.
Some experts see this as part of a larger trend in the U.S., where Congress and policymakers are tightly monitoring the marketing and advertising practices of food, beverage and nutritional supplement companies.
We expect this kind of oversight to continue and perhaps increase, as more companies rely on beneficial health claims as a competitive advantage to sell their products. For example, any advertisement that says eating certain foods can improve health and reduce the risk of serious problems such as prostate cancer or heart disease will draw the attention of American regulators, says Adonis Hoffman, an adjunct professor at Georgetown University and expert on marketing and advertising law.

Products making claims that they can help people to lose weight or improve their overall cognitive abilities also will be scrutinized to determine whether those claims can be substantiated through scientific research. And as any marketer who has been the subject of an FTC investigation can attest, enforcement actions can be costly, embarrassing and potentially business-ending for a company, says Hoffman.
Below ad banned in the UK for making health claims..
FTC Cracks Down on Acai Berry Marketing
In early February 2012, the FTC forced six online marketers into legal settlements to stop their practice of using fake news websites to market acai berry supplements and other weight-loss products. As part of its ongoing crackdown on bogus health claims, the FTC will require the six marketers to make it clear to consumers when their commercial messages are advertisements, as opposed to being presented as objective news reports.
The settlement also will bar the marketers from making any claims about health-related products, such as the acai berry weight-loss supplements and colon cleansers. Acai berry often are marketed to consumers who hope to lose weight.
According to the FTC, the websites were designed to appear as if they were part of legitimate news organizations, but were merely advertisements that enticed consumers to buy the featured acai berry weight-loss products from online merchants. With titles such as "News 6 News Alerts," "Health News Health Alerts," or "Health 5 Beat Health News," the sites represented that the reports they carried had been seen on major media outlets such as ABC, Fox News, CBS, CNN, USA Today, and Consumer Reports.
Investigative-sounding headlines presented stories that claimed to document a reporter's first-hand experience with acai berry supplements, which it claimed to result in a weight loss of 25 pounds in four weeks, according to the FTC complaints.
According to the FTC, the marketers pitched the acai weight-loss products, by posting attention-grabbing ads on search engines and high volume websites, such as "Acai Berry EXPOSED – Health Reporter Discovers the Shocking Truth," which drove traffic to the fake news sites, and ultimately to the sites where merchants sold the products. The FTC received numerous complaints from consumers who paid between $70 and $100 for weight-loss products after having been deceived by fake news sites.
The proposed settlements require the companies to repay the full amount of the commissions they received through their fake news sites. For those representatives who could not pay the millions or hundreds of thousands of dollars ordered in the settlement, their assets will be seized and liens will be placed on personal property such as houses and cars. Those involved include: Ricardo Jose Labra; Zachary S. Graham, Ambervine Marketing, LLC and Encastle, Inc.; Tanner Garrett Vaughan; Thou Lee; Charles Dunlevy; DLXM LLC and Michael Volozin.
In another recent case involving online acai berry marketers, the FTC required Central Coast Nutraceuticals to pay $1.5 million in customer refunds as part of a settlement for using allegedly fraudulent free trial offers and phony endorsements from Oprah Winfrey and Rachael Ray in their marketing of acai berry supplements, colon cleansers and other products. The settlement order bans the marketers from promoting so-called negative-option sales, such as continuity plans and free or introductory price trial offers, where consumers pay a small fee or nothing up front to receive a product. After that, they are automatically charged a higher price unless they take steps to cancel the shipments, or return the product before the end of the trial period.
In 2011, the FTC sued two other online acai berry marketers: Lean Spa, LLC, which the Commission sued in conjunction with the State of Connecticut, and Jesse Willms, who allegedly made hundreds of millions of dollars. In both cases, the FTC obtained preliminary injunctions barring the defendants from engaging in the charged deceptive practices.
In every case that is settled, the marketers typically do not admit liability, but agree to pay fines and to cease engaging in the marketing practices, which are the subject of the enforcement action.
Important Lessons for MLM and Direct Sales Representatives
These recent enforcement actions point out three important lessons for companies in the MLM and direct sales industry.
1. Disclosure and Transparency–Every company should disclose the conditions,benefits, drawbacks and other material terms of any products and services they are marketing.
2. Substantiation for Claims–Every claim that is made about a product, especially health-related claims, must be fully substantiated by scientific evidence, which the company should be prepared to produce readily.
3. Training for Independent Representatives–Every company should require each of its independent representatives to undergo sufficient training on how to comply with the new level of regulatory scrutiny when marketing its products.
Marketing expert Hoffman concludes: In this new environment, it is super important for direct sales companies to err on the side of being more, not less compliant, with the rules of marketing and promotion in the U.S. The last thing any company wants when it is experiencing growth and great momentum is an enforcement action that could have been avoided by taking a few easy steps.

Adonis Hoffman, Esq. is an attorney and noted marketing and advertising expert in Washington, DC. He served as a top lawyer in the U.S. Congress and at the FCC, and is the former general counsel at the American Association of Advertising Agencies. Today, Hoffman is an adjunct professor at Georgetown University and helps advertisers, direct sales, and independent representatives to comply with the national and international rules of marketing.