MLM Startup's What Are The Most Promising?
February 9, 2012
By Team Business For Home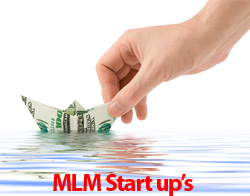 What are the best Start Up's to work with in 2012?
Business For Home is looking for most promising MLM – Network Marketing Start Up's. A Start-Up is a company founded/ pre-launching in 2011 – 2012.
Please leave a comment or nomination below.
Please put in facts and figures, not hype.
For a Nomination we need:
1. Corporate website
2. CEO or founder
3. Master distributor or Field Leader
4. The reason for the nomination.
A provisionally list:
Below list is in alphabetical order the number is NOT a ranking
| Rank | Nr. | Company | Country | CEO | Leadership | Website | Why? |
| --- | --- | --- | --- | --- | --- | --- | --- |
| 1 | 1 | ARIIX | USA | Fred Cooper | Tim Sales | www.ariix.com | Leadership |
| 2 | 2 | Best In U | USA | Michael Wiedder | Allan Kelly | www.bestinu.com | Products |
| 3 | 3 | Beyond Organic | USA | Jordan S. Rubin | David Johnson | www.livebeyondorganic.com | Products |
| 4 | 4 | BodHD | USA | Ray Grimm | Travis Flaherty | www.bodhd.com | Leadership |
| 5 | 5 | Independence Energy Alliance | USA | Jeffrey Meller | Bob Middleton | www.independencealliance.com | Products |
| 6 | 7 | Minerva Worldwide | USA | John Gustin | Jim Lutes | www.minervaworldwide.com | Products |
| 7 | 8 | Nerium International | USA | Jeff Olson | Lou Abbott | www.nerium.com | Products |
| 8 | 9 | Origin Pure | Europe | Fred Stege | Charles Khiran | www.originpure.com | Products |
| 9 | 10 | SevenPoint2 | USA | Jason Boreyko | Sam Adams | www.sevenpoint2.com | Leadership |
| 10 | 11 | Unittus | USA | Jon Anthony Astore | TBD | www.unittus.com | Leadership |
| 11 | 12 | Uprize | USA | Glen Jensen | Dan Taggart | www.uprize.com | Leadership |