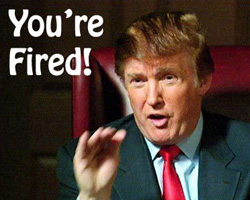 The Trump Network Is Dead
March 26, 2012
Donald Trump Bailed Out…
Donald Trump has pulled the plug on his brand, the Trump Network
in short order after the recent sale of the company to Antoine Nohwa.
The Trump brand has been removed entirely from the website and
all products are repackaged with Bioceutica branding.
Insiders expect as these were outstanding products in customized nutrition and medical grade supplementation, the product line will survive under the new branding. But the Trump name disappeared last Friday…
Our informers think that the royalties paid for the name were a steep liability to the MLM company rather than the gold mine they all hoped.
In March of 1997, Ideal Health started and is renamed in 2009 as The Trump Network when Donald Trump came in. Estimated revenue in 2010 $20 million, active 21,000 distributors. A review about the Trump Network is here
Want to read the 0 reviews on Bioceutica? Click here for Bioceutica Review!