Bidify Review 2012
April 7, 2012
By Team Business For Home
Bidify Ltd. is founded by Larus Palmi Magnusson – CEO & Chairman who lives in Reykjavik, Iceland. Bidify offers a state of the art, first class affiliate system, and is the marketing arm of Bidsson Ltd, a global Penny Auction. Bidify operates globally through the internet, and have company presense in multiple countries. Frode Jorgensen is Chief Creative Officer, he lives in Norway with his wife and children. Kevin Thompson is Legal advisor.
Larus has been a top producer and successful in many Network Marketing Company he has been involved in over the years. He has seen the good and the bad in the industry, and have first-hand experienced companies disappearing over the night. In 2011 Larus started the discussions with his partners to create Bidify. [private_platinum]
Frode got involved in Bidify as a programmer and software developer, but quickly found a full time job. Now Frode is in charge of programming, designs and creative development. Frode works closely with Larus in daily operations, but his specific work includes managing programmers from all over the world plus stay in close contact with the Legal Team and Bidify Affiliates.
With over 20 years of experience in the Network Marketing industry, Frode has seen it all, he has been to the top, but also hit rock bottom, hard. Frode has probably been though more difficulties the last 6 years, than most people ever will in a lifetime. These difficulties has given knowledge that cannot be learned, it has to be experienced.
Product
Penny Auction through Biddson.com.
To signup as a customer at Bidsson.com is free and customers are awarded free sample bids (given away by Bidify affiliates) for various activities they do on the site. Bidsson.com can be fully accessed through facebook as well.
When you purchase a subscription package, you will be able to purchase Sample Bids to give away to Bidsson.com customers as samples. Each sample bid you purchase, generates Bid Points which can be earning you cash rewards from the Bidsson.com auctions.
Compensation Plan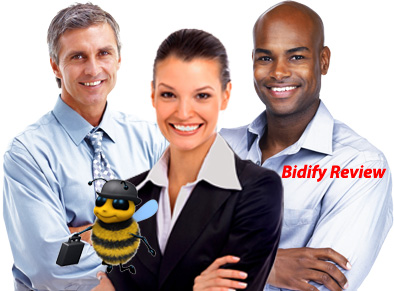 An Uni-Level compensation plan with commissions up to 15 levels deep. There are 3 affiliate packages as of April 2012:
Executive Subscription Package for € 150. Includes 1 Towah MasterCard Prepaid Card, 30 Retail Bids and 50 Package Sample Bids.
Premium Executive Subscription Package for €250. Includes1 Towah MasterCard Prepaid Card, 30 Retail Bids and 150 Package Sample Bids.
Platinum Subscription Package €1,000. Includes 1 Towah MasterCard Prepaid Card, 30 Retail Bids and 1,000 Package Sample Bids.
In Bidify there are six different ways of earning cash rewards.
Retail Bid package purchases made on Bidsson.com by your personally referred customers.
Personally referred affiliate's sample bid purchases through Bidify.
Downline affiliate's sample bid purchases through Bidify.
Personal sample bid purchases, once they are given away to customers of Bidsson.
One-Time bonus on personally sponsored and downline affiliate's subscription purchases.
Monthly bonuses on personally sponsored and downline affiliates monthly subscriptions.
One-Time Bonus is paid out on every affiliate subscription package sold. There are two different ways you can earn a One-Time bonus. Personally referred subscription package sale and Downline subscription package sale 15 levels deep:

The Unilevel commission is paid instantly on every subscription renewal (from second month), as a cash reward and made available in your account immediately, 15 levels deep:
Bidify Facebook Presence
With 20,420 likes as of April 2012 the company has build a great facebook presence:
Bidify Alexa Rankings: Worldwide 15,479
Bidify MLM Professionals involved:
| | | | |
| --- | --- | --- | --- |
| | | | |
| Sarah Smus | Wouter van den Brink | Bata Matic | Annelies Mols |
[/private_platinum]