Major European Launch Vemma Bod-e, Chris Powell Endorse The Products
April 27, 2012
By Team Business For Home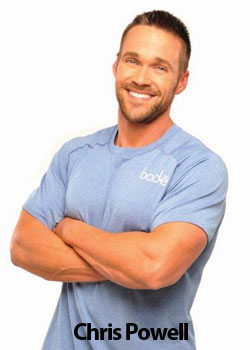 Vemma will launch Vemma Bod-e in Europe, a first-of-its-kind healthy weight solution endorsed by Chris Powell, TV celebrity transformation specialist and author of the just released book Choose to Lose: The 7-Day Carb Cycle Solution.
Powell captured European attention as the host of a television series helping guide participants through their weight loss journeys by moving into their homes, assuring that they have the proper nourishment and exercise movement, and providing a fresh perspective to individuals whose lives had become unmanageable because of their weight.
Powell was attracted to the Vemma Bod-e line because of its healthy positioning and commented:
"The Vemma Bod-e products offer a completely different approach to help you change your body and achieve a healthy weight.* I am excited for you to experience the complete nutritional benefits these products offer, including the essentials necessary to optimize the body's natural ability to burn fat, while simultaneously repairing and rejuvenating tissues at the cellular level.* Although the science behind the Vemma Bod-e products is quite complex, the idea is very simple: feed your body the nutrition it needs, and it will go to work burning the fat you don't want."
Available for pre-order on 7th May in Europe, the line helped generate record-breaking company sales that day. Pre-order sales, which have topped $ millions in the USA.
An alternative to typical meal replacement bar and shake products, Vemma Bod-e features healthy, results-oriented products which feature the clinically-studied Vemma nutritional blend of vitamins, essential minerals, mangosteen superfruit and aloe.
The Vemma Bod-e line includes:
Bod-e Burn to enhance the body's burn potential by curbing appetite, increasing energy and delivering the nutritional support the body needs upon waking and throughout the day.* Includes 20 grams of protein and 7 grams of soluble fiber.* Just two servings a day helps people achieve their desired weight.*† Also available in a zero caffeine formula.
Bod-e Cleanse to prepare the body for weight loss by removing impurities at the cellular level, supporting liver and digestive function, and nourishing the body for overall health.*
Bod-e Rest to help support weight management efforts while sleeping with key nutrients to enhance the body's nightly restorative processes.*
Vemma Founder and CEO BK Boreyko is not only excited about the future of the Vemma Bod-e line, he has already benefited firsthand from the products through a pre-launch focus group where he created his own Bod-e success story.
"When we developed Vemma Bod-e, I tasked our team to dig deep and come up with an innovative and sustainable solution to the weight loss issues faced by real people, including me," Boreyko commented. "A great deal of research and science has been incorporated into the products, and we are thrilled to have Chris Powell's endorsement."
About Vemma
Founded in 2004 by BK Boreyko, Vemma Nutrition Company is rapidly growing as one of the premier industry leaders specializing in premium liquid nutrition. Every day thousands of people join the company's mission to make a positive difference in the lives of others through sharing the clinically proven Vemma formula. Vemma wellness products coupled with the company's rewarding business opportunity help people live a better quality of life, physically and financially. Vemma is headquartered in Scottsdale, Arizona and distributes its products through a global network of independent Brand Partners operating in 50 countries. For more information, please visit vemma.com.
About Chris Powell
Chris Powell is a TV celebrity transformation specialist. Chris holds a degree in Exercise Science, with concentrations in biomechanics and physiology and the training accreditation, Certified Strength and Conditioning Specialist (CSCS). Powell is a recurring expert on Good Morning America and The Dr. Oz Show and has appeared on The View, The Oprah Winfrey Show and several local and national television shows. Powell also writes a regular column about healthy living for The Huffington Post. He recently signed an exclusive product endorsement for the Vemma Bod-e product line.