Monavie Europe Is Growing Fast
April 27, 2012
By Team Business For Home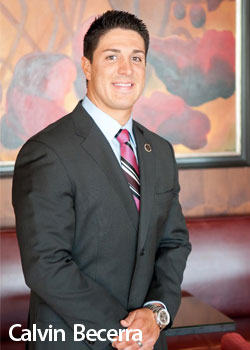 MonaVie's youngest Black Diamond Calvin Becerra is one of the leaders who brought the Monavie opportunity to Europe. He lives in Corona, California, USA.
MonaVie is a billion dollar company that has a vision of becoming a 20 billion dollar company in 20 years and I will be here to experience it with many new partners in Europe. It is important to understand that MonaVie is not a start up company, it is a proven company that has shattered virtually every MLM record in this industry.
Where most start up companies fail within their first two years, MonaVie is only 6 years old and we have done what no other young company has ever done.
This is my first experience in the network marketing industry and in my first 8 months I became the youngest Black Diamond in the company at 27 years old. It doesn't matter what your background, ethnicity, age, gender or religion…in MonaVie, anyone can be successful when on the right team.
It's as simple as getting started and consuming our products. When you can show them how to get started as you did, the business takes on a life of its own.
In Europe my leaders have serious momentum and are tearing it up fast. We will have a new Diamond this week and my Blue Diamonds and Purple Diamonds have been having their biggest weeks in Monavie ever. The market has grown incredibly since Randy Schroeder has been President there and since I am working closely with the European leadership.
When I sit back and think about all of the very successful distributors in my own personal organization, I think about what it is that separates them from the rest of the distributors in the same organization. What do these people do differently that the others do not do? I know exactly what it is. These successful distributors are always in production mode.
They are always doing something everyday that is actively building their business and keeping their business moving forward. They are doing one-on-one business introductions to either their own new prospects or prospects that are put in front of them by their downline teammates. They are either doing or attending a home business meeting every single night with their organization. They are doing Saturday morning trainings with their teams.
They are sharing product with first time prospects. They are out meeting and greeting new people in new social groups, whether it is for work, church, family parties, get together with friends, dinner parties, local business networking groups, etc. They are actively involved each month in personal development seminars or classes, growing and changing always.They are at all meetings, major functions and corporate functions, never ever thinking of an excuse to miss one. They are constantly prospecting people and enrolling at least one new person a week.
They always make it a point to have product, brochures, and training materials in their automobiles and they are always branded with MonaVie on their automobiles and on themselves. They are always reading books or listening to cd's that benefit them in growing their business. They are not afraid to invest in themselves and in their business.
Monavie's Europe Team Leaders – Among many others
| | | | |
| --- | --- | --- | --- |
| | | | |
| Alexander Herr – Purple Diamond | Danien Feier – Blue Diamond | Vallo Arumäe – Diamond | Ralf & Rut Hutmacher – Diamond |
Alexander Herr said:
In MonaVie a partner gets paid to help his downline – the starmaker bonus (Help your personally enrolled partner find one partner left and one partner right) is the same as a first order bonus for a new partner. This showed me at the very beginning that its possible to have with MonaVie the right culture of Direct Selling / MLM and this is in fact about Changing lives and Serving others like the supplement from the Wall street Journal in 2011 titled it!
Everyone has the responsibility to help the brand new partners, even if it takes more time and work. With MonaVie, it is possible to push everyone to their success, as long as a new partner is also willing to learn. For me, the most important thing people look for in a Network Marketing / Direct selling / MLM is that we get compensated in the best way. If we just help every new partner understand the first ways to earn money and help them follow the guidelines, soon they will grow, succeed and their whole lives will be changed. Thanks to MonaVie many people on my team have succeeded in this industry and it has been amazing to see how it is changing their lives everyday. It is also amazing to see that also in a way, I have helped with this and have made a difference.

I had no real background in MLM. I was previously involved with one company a year before I started MonaVie and I achieved success in a completely different type of MLM plan, with a 5 legs matrix, in 2.5 months the position of Diamond. It was at that moment that I saw the total opposite from MonaVie's plan. In the plan I was use to building, I only got paid well if I enrolled a ton of new people every month, but I did not get paid if I start to help my new partners. Because of this, I chose to finally make my move to MonaVie. In MonaVie, you are only required to build 2 legs and find 3 team members that are willing to lock arms with you and build to success. And for this you can go to the very top ranks!

I live and move wherever my teams start to make a fire. I call the fire in my business the place where all the profitable true business building activities are being done by my true leaders. I go there all of the time to pour more gas into the fire. I decided to live 2-3 years the life what no one was willing to live in order to one day live the life that everyone wants to live. I was born in Germany and for 9 year have officially lived in Switzerland, having my distributor company in Liechtenstein registered, but all the time away in all countries helping my teammates grow even bigger.

Actually, I like to say my sponsor and role model is Black Diamond, Calvin Becerra. But in fact, it is a friend of mine in Germany. I originally flew in 2010 with this friend to MonaVie to start and I agreed with him, that he can be my sponsor. I am the owner of my business, responsible for my own business, and NOT my sponsor. For me, there is no difference who my sponsor is. Finally I guess I was too fast for my friend and he never started to grow. I was not the first one in Germany, but thanks to the personal growth and developmental training that I received through Calvin Becerra and Randy Schroeder, I am now the Number 1 in Germany as a Purple Diamond! What is important to understand is that it is not a question to be the first, it is only important how much action you are willing to take.
Danien Feier said:
I joined MonaVie because of its tremendous success. Monavie is the Fastest company to a billion dollars in the history of the industry. It has shattered every single MLM record ever. Another reason is its amazing leadership, value-driven-management team and Worldclass marketing. MonaVie is one of those rare companies that you can really count on. And finally, the products create results beyond imagination. I have had a few years of experience in MLM.
I got sold on the dream in Herbalife at the age of 17. I had been looking for real mentors for years and then joined 2 companies that went out of business before finally arriving at MonaVie. This will be my last Network Marketing company and the place I can always call home. I live in Wuppertal, Germany and my upline mentor is Calvin Becerra. I have learned so much about people and building up a community within my organization. Just recently my friend Michael Fritz and I have formed and incredible team and system called MonaVie Unity team. We have had incredible growth since implementing this team model into our business. We can only go up from here.
Ralf and Rutt Hutmacher said:
When we were looking for a new job-related home, we coincidentally found MonaVie on the internet. After a while of researching and analyzing, we were completely excited! In fact, holistically, about the company, about the products and
about the compensation plan.
We had no background/history in MLM before starting MonaVie 2 years ago. Prior to this we held management positions in big German companies. We're living in Herrsching, that's 35 kilometers in the west of Munich, Germany and we are sponsored by Tom Koller and proud to be mentored personally by Calvin Becerra.
Vallo and Marilin Arumäe Diamond Executives said:
Our path with MonaVie started when we were looking for a vehicle for passive income and to leverage our time. I had decided that I would no longer work for money and would do it only if it helped other people and made the world a better place.
MonaVie fit to that perfectly. We witnessed the success of MonaVie in United States, and were looking for this opportunity to arrive in Europe.We have residence both in Germany and Estonia. We started in MonaVie to help others – both for better health and wealth. We feel that we found a company that is aligned with our personal principles – integrity, making sense, teaching others and playing in team.
MonaVie is our first real experience in MLM industry. We had heard a lot of positive about the industry through Robert Kiyosaki and his teachings. We understood that communication skill is the most important skill in life and the best way to learn it, is through doing the real thing.
We made up our mind that if we give it a shot in the industry, we will do it with MonaVie. It is one of the best decisions in our lives! Within our first few months of putting real focus and attention into our business, we have become Diamond Executives. Our sponsor is the fastest growing leader in MonaVie Europe, Purple Diamond Executive, Alexander Herr.
Tom Koller was not available for comment, but has had experience in the MLM industry prior to MonaVie. He was the first distributor to enroll in Germany and the fastest to the rank of Blue Diamond Executive. Today, he lives with his beautiful family in Switzerland and Italy and was sponsored by Black Diamond Calvin Becerra.