Nick Sarnicola – ViSalus Top Earner Interview
April 11, 2012
By Team Business For Home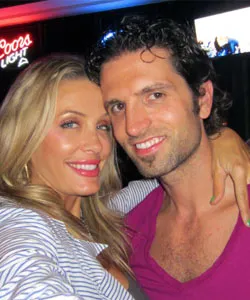 Nick Sarnicola together with his wife Ashley, are the Nr. 1 Top earners in ViSalus. They are living in Florida, USA. Estimated earnings $221,000 per month and high ranked in the Hall of Fame.
He is a veteran of network marketing having been involved with the industry for a decade. Nick co-founded ViSalus in 2005 and served as the company's Chief Sales Officer until January 2010. He resigned as Chief Sales Officer and enrolled as a Body by Vi Challenge Promoter, moving up the ranks like anybody else new to the Challenge.
Nick built only one sales distribution channels in those ten years and became a multi-millionaire by the time he was in his mid-twenties.
With homes in places like South Beach and Grand Rapids, he travels North America supporting his team. He stars, along with 5 other members of Visalus, in "The Pyramid Thing," a reality series, and is the author of "Arrive by 25: What Your Parents & Professors Don't Know About Money."
His favorite quatation: Dont have a wishbone where a backbone ought to be. Ted Nuyten had the honur to interview Nick.
Nick, how and by whom where you introduced in the world of Network Marketing and why where you interested in the business model?
I was introduced at the age of 18 by a stranger while working at the mall making $5.50 per hour. I had NO CLUE what Network Marketing was, but I knew I wanted to be "rich one day," so Networking seemed to be a great way to do that.
How did you got involved into ViSalus, you are founder and shareholder?
I got involved in Visalus by creating it. The company I was #1 in went out of business. I called Blake Mallen (Visalus current CMO) who was my top leader in my team and explained to him that there were no checks coming next week.
Our team not getting paid was not an option for us so we bought the assets of that company and created Visalus as Co-founders. We met Ryan Blair and immediately added him as the 3rd Founder and CEO of ViSalus. All three of us are Founders and shareholders.
| | |
| --- | --- |
| | |
| Fun in Thailand | More Fun in Dubai |
Some people might be a litte confused, as you are both in the field active as distributor as having a corporate role as Chief Sales Officer, how do you combinate this?
Yes, it's a bit confusing because I am a Founder, who resigned his corporate management role and started again as a distributor. So now I am a Founder who is now a top field leader in his own company, but I do not have a management role in the company anymore.
The most entertaining part is many leaders from other companies think I was placed ABOVE the existing team in Visalus when I went into the field. And though I believed I should have been because it was my original team, I actually was NOT allowed to.
This meant I built my team in 24 months to 35 million/month in sales (December's number) with 80% of everyone I knew already in the company and now my competition. Bottom line…no you don't need anyone "placed under you," just go build it.
How did ViSalus got in contact with Blyth, why was this public company interested to invest in ViSalus?
Blyth is owned by the Goergen family who is a top business family in the world. They were investors in Ryan's last company which they were very pleased with its' return on investment. When we brought Ryan aboard Visalus, he immediately reached out to them.
Todd Goergen believed in us first putting a few million into us. When we become big enough, Blyth saw it as a good company for them to own as well.
Which moments in your life were decisive for you?
That's easy: Going "all-in' and joining Network Marketing, going "all-in" and creating Visalus when the company failed that I was in, going "all-in" again and putting every dollar I had back into Visalus when it was failing, resigning my corporate role and going "all-in" into the field, going "all-in" again by taking my life savings and becoming the second largest shareholders with Blake and Ryan in Blyth next to the Goergen family 3 months ago, and lastly going "all-in" and marrying my wife Ashley.
Were do you see your strengths?
Going "all-in"!
| | |
| --- | --- |
| | |
| South Africa | South Africa |
How large is your team / downline?
My team has 80,000 ACTIVE promoters (active is all that matters gang), 25,000 people getting FREE product, 8,000 BMW qualifiers making an average of $1800/month, and 600 families making a 6 and 7 figure/year income. That's our team, the company's number are much higher.
How important is social media for Visalus?
As important as any other aspect of the business. I laugh when the competition says, "that company is ran by kids." Yes….and kids dominate social media and social media is where the eyeballs are at. Facebook is ran by "kids," as is "Google," as is "Zappos," as is "Youtube." So, I take that as a compliment now!
Would you describe to us your way of working?
Paradoxically. Or perhaps balanced? Non-stop work with non-stop travel and fun. In your face and challenging you to grow yet always joking and making fun. Aggressively yet safe and well planned. Confidently but not arrogantly. Ill never ask someone to do anything I wont do myself.
Nothing worse that a leader who doesn't walk the talk. And above all else, honestly and authentically. I always try to do whats right and tell the truth – and if I mess up as I always will, I apologize and make it right.
Nick's Team Members, among many others
| | | | |
| --- | --- | --- | --- |
| | | | |
| Kyle Pacetti | Jason O'Toole | Mike Craig | Tim and Holley Kirkland |
| | | | |
| Frank Varon and Lori Petrilli | Tara Wilson | Tanis MacDonald | Tony and Rhonda Lucero |
| | | | |
| Rachel Jackson | Aaron Fortner | Jason Silverthorn | Ron Pruett |
Do you have a tip for the average distributor?
Have big dreams, work your ass off, have fun, and NEVER believe someone who tells you it isn't possible.
What wishes, goals and plans do you have for the future?
Become the 1st MLM in history to ever do a billion dollars in product sales in the US and Canada only in 12 months time. Open up a few countries. Have a baby next year.