Rachel Jackson – ViSalus Top Earner Interview
April 21, 2012
By Team Business For Home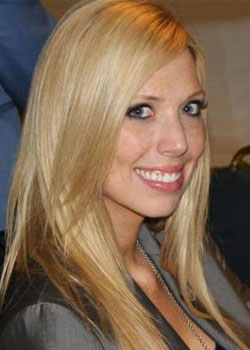 Rachel Jackson – who goes by RJ is a 5 Star Ambassador in ViSalus, the highest paid female in the company at only 27 years old. Rachel, with the full support of her husband Josh, is based in Houston, Texas, USA, where they raise and show English Bulldogs in their spare time. As of April 2012 her monthly income is $95,000+ with 6,000 active promoters and $4 million monthly revenue.
A college drop out, RJ spent her early job years working retail jobs and running a part-time business as a nutritionist. It was at the age of 21 when Josh introduced her to the direct selling industry. Her first 4.5 years in the industry were of moderate success, a learning ground as she called it. She settled & joined ViSalus in February 2011.
RJ's success was rapid and viral, with no team transition, she hit the top of the compensation plan in 65 days, and 5 Star Ambassador in 7 months earning a $250,000 bonus paid out over 18 months. Within 13 months of getting started, they crossed the Million-A-Year mark.
They love health, wellness, fitness, and traveling all across Canada & United States supporting and driving their team. Ted Nuyten had the honor to interview Rachel.
Rachel, before ViSalus did you had any experience in MLM?
I was first introduced to networking & direct sales in 2006 by my (now) husband Josh. He stumbled across a technology company when looking for business tools for his Insurance Agency. At the time I was a 21 year old college drop-out working in retail and I hated my job; working 60+ hours a week, comuting 2.5 hours a day, absolutely miserable. He said You could do this, you'd be really good at this. As soon as I saw that you could work for yourself, my reaction was spontaneous Sign me up!!'
He knew I'd be good at this. I'm so grateful that he pushed me! He's the reason I'm even here. Love him so much!
We were with that first company for 4.5 years…and we loved it! It was great growing grounds, even though our income never exceeded a few thousand per month. We built great relationships, learned business and time management skills, and used that forum as a huge introduction to personal development.
What attracted you in the business model, why did you decide to put your time and efforts in?
In my teens and early twenties, I saw both sets of my parents struggle financially. They were approaching their 50's, with no retirement, no savings, large amounts of debts, and little hope. Nobody ever taught me residual income, so when I first heard that concept … I was blown away. Do something once and get paid for it again and again. Being competitive and a driver – I was immediately attracted to the fact that NOBODY could put a cap on my earning potential. In retail, I was constantly driving sales, increasing revenue, doing marketing for my store – but my salary never budged. That bugged the heck out of me!
| | |
| --- | --- |
| | |
| Rachel and Josh Jackson | Having Top Earners fun… |
Why did you team up with your sponsor?
Choosing your support team is critical. I believe it's one of the key decisions I made to be successful in ViSalus. I originally heard about ViSalus through a friend Aaron Fortner, and six months later joined his team through Molly Dalbec (now a top 2-Star Ambassador). Molly and I developed a close friendship, and I saw that in her lineage I'd have a lot of support…including the aid of 2-Star Ambassador Jennifer May and 5-Star Ambassdor Tara Wilson, along with Aaron. It was a dream come true! At any given time during my build, I had 5+ people I could call for a three way call, and those leaders I've been able to leverage to grow an extraordinary team. They have been our rocks. Our best friends. Our leaders are really our family!
I looked for people who were full-time, driving the business. Those women and Aaron were servant driven, and I know would help us lead our team to success.
What is the size of your team and earnings, is your team in the USA only or in certain states?
Our team has expanded greatly, representing every single state in the US and every single province in Canada. We now have over 6,000 active (*active!* that's the only number that counts guys) promoters on our team and tens of thousands of customers. In April 2012, we're on track to close out over $4,000,000 in group revenue. That's translated to an income for Josh & I that's topping $100,000 a month our 14 month in ViSalus.
Did personal development play an important part in your success?
One of the wisest quotes I ever heard about networking was that Network Marketing is personal development wrapped around a product or service… in the pit of financial ruin in the beginning of 2008 trying to build Company #1, we were a few thousand shy of paying our monthly bills when our past sponsor told us to attend a business seminar with top trainer Dani Johnson.
We didn't have the money to go, but somehow Josh found a way to send me. It lead to investing over $15,000 that year on attending her seminars, buying CD's, tapes, and books — all learning to master the art of people, communication, relationship marketing, and networking. Best money we've ever spent. The best coaches are the greatest students. Never stop learning. Never stop growing. Never arrive. Keep looking to improve, and your leadership will grow.
Rachel Jackson On Stage
How did you build such an impressive team, what is your secret?
Direct sales is relationship marketing. I've spent the last 6 years in business building those relationships. Nurturing them. Feeding them. I'm a 6+ year-overnight-success! Ha! I focused on creating FRIENDS FIRST in business, so when came time to partner in Vi, I had a network of people that knew us, liked us, and trusted us.
Even though I had never created huge momentum in a business before, never exceeded $4,000 a month – we knew this would be different. Something in my gut told me. My business partners Aaron Fortner, Jason O'Toole, and my husband Josh together created a vision for what we wanted to accomplish. I wanted to help 20 people in my first year break six-figures. We helped 22! My conversations the first week were urgent and passionate. I knew that without a shadow of a doubt – this was IT. And that if people partnered with us and RAN…they'd be unbelievably successful. My mind was made up, and I was 1000% committed to that vision.
Also, everyday Josh hears me say I'm attracting the right leaders into my business. We've seriously tripped over some of the most amazing people in our lives. Our teams success has to do with the extraorindary leadership inside of it. They blow me away and are the reason we work so hard!
Rachel Jackson's Team Leaders – Among many others
| | | | |
| --- | --- | --- | --- |
| | | | |
| Aleah Brock | Andrew Murray & Marie Torres | Angie Ostogic | Cedrick Harris |
| | | | |
| Dani McDermott | Dustin & Andrea Sullenger | Dusty & Amanda Devaughn | Emory Oldaker |
| | | | |
| John Lynch | Kenny and Kelley Gregg | Kim and Mike Stuart | Larry Beacham |
| | | | |
| Lawrence Tam | Patty Rottman | Penny Franke | Renee Chase |
| | | | |
| Roger Langille | Ryan Yokome & Kris Britton | Sarah Crocker | Sarah & Shawn Murphy |
| | | | |
| Sha Brock | Shanna Brock | Summer & Shawn Lisk | Tami & Andre Popa |
| | | | |
| Tami Bixby | Toby & Layla Black | Tracy Matthewman | Tyler and Mimi Ford |
| | | | |
| Ken & Tina Hockmuth | Bill & Dena Brock | Pat Scheffler | Kyla Holt |
Many people are having 2 challenges: to recruit new members and to get duplication in. How did you solve those 2 challenges?
There are two aspects of networking. Recruiting & team building; ie…sponsoring new people and getting duplication. People are usually good at one or the other. Those that master ONE of those skillets can make a high five-figure income, maybe even break $100,000 in the right plan. True direct sellers learn to flourish on both. They never stop recruiting, they never get complacent, they always lead by example and they develop the acumen to lead all different types of people and personality types.
The greatest way to solve these issues is to seek an opportunity with a simple, viral marketing message. Keeping it so incredibly simple that a 6 year old could convey what it is that you do. If it's too techie, too wordy, too complicated, or complex – it will not duplicate. It also has to be fun and mainstream, otherwise the 96%, otherwise known as the masses won't feel comfortable sharing what it IS that they DO.
Don't have that? Lead by speed. People will work at 25% of your pace. And if you're signing up 1 person a month, how is your team going to follow or grow?
What are your plans for the future?
Not to let up. We're young and full of energy. I'm not raising my head until every last person gets to where they want to be. Personally, also want to travel – setting up a Carribean tour for December, and a few team trips that will be a blast. Maybe some kids in a couple of years. Who knows! That or we'll just keep getting more English Bulldogs (we already have three!)
Is there something you do not like in MLM or would like to improve?
Very little I would change. We have the best products, the best marketing plans, and the best vehicle to create wealth. How cool is that?
ViSalus Meeting

Do you have a tip for a Newbiein MLM
Work harder on yourself then on your business. People join you, not companies, products or compensation plans.
Never pre-judge anybody on your list. It's not up to YOU if this is right for them, give everybody you know an opportunity to see your plan. The worst feeling in the world is to go to your company convention and see your second cousin sitting in a leader's banquet. They exclaim How come you never told me?! Ugh, kick in the gut!
Use tools to share. Don't BE the tool. Nobody will ever be as good as you, as passionate as you, as detailed as you. Talk to people, send them to a simple message, follow up and enroll (Like my good friend Tom Challan would always say!) – I've never once given a break down of the compensation plan. I just send them to a tool (like a video) that explains it.
Build your network. Make new friends daily. Be an inspirational, positive light in their life and don't have the focus of your relationships on trying to GET THEM IN your business. That time will come, if it's meant to be.
Get more no's in a day, than most people talk to in a week. CRUSH & BOOM!
Rachel: I like to give a very special thank you to my incredible mentors:
| | | | |
| --- | --- | --- | --- |
| | | | |
| Tara Wilson | Aaron Fortner | Molly Dalbec | Jennifer May |
Contact Rachel Jackson:
Rachel Jackson website: https://boomski.bodybyvi.com
Facebook: www.facebook.com/whoisracheljackson
Fanpage: www.facebook.com/wealthwithrachel