Talk Fusion – Steve Mitchell Hits $65,000 per Month
April 29, 2012
By Team Business For Home
Steve and Yvette Mitchell achieved the dizzy heights of Double Diamond with Talk Fusion in record-breaking time – one of the fastest in the history of Talk Fusion, and in only his second month with Talk Fusion, he reached and replaced his previous five-figure a month income.
His confirmed earnings are $65,000+ per month as of April 2012 and climbing. His team, is already close to 36,000 Associates.
Talk Fusion is founded by Bob Reina. Bob began his relationship marketing career as a part-time income earner while working full time as a Police Officer. Graduated first in his police academy class, Bob holds a degree in Criminology from the University of South Florida. Starting in the US in 2007, the Video Email Product offering expanded into over 85 countries.
Talk Fusion's story began with a vision for a revolutionary product and the determination to make it happen.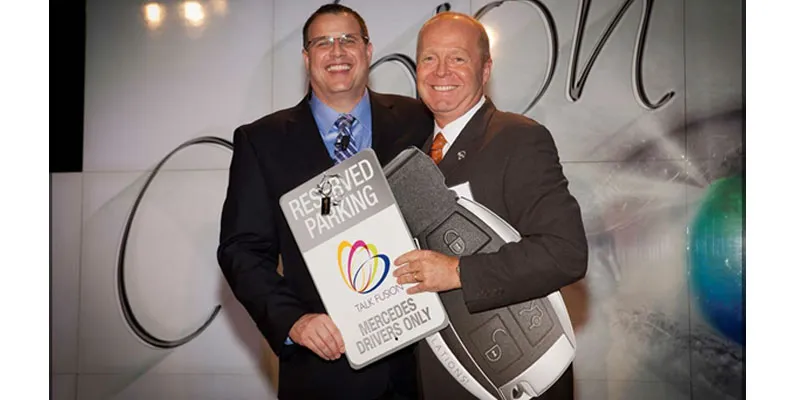 Income Disclaimer:
Any earnings portrayed in any Talk Fusion marketing materials are not necessarily representative of the income, if any, that a Talk Fusion Associate can or will earn through his or her participation in the Talk Fusion Instant Pay Compensation Plan. All references to income, implied or stated, throughout the Talk Fusion Instant Pay Compensation Plan are for illustrative purposes only. These figures should not be considered as guarantees or projections of your actual earnings or profits. Talk Fusion does NOT guarantee any level of income or earnings to any Associate; any representation or guarantee of earnings would be misleading. The purchase of a Talk Fusion Product Package is completely optional and is not required for an Associate to participate in the Talk Fusion Instant Pay Compensation Plan.
Talk Fusion Top Earners –

The est. earnings are as follow

s:
[private_platinum]
| Rank | WW Rank | Name | Company | Est. Month | Est. Year | Website |
| --- | --- | --- | --- | --- | --- | --- |
| | 41 | Minh and Julie Ho | Talk Fusion | $210,000 | $2,520,000 | www.talkfusion.com |
| | 127 | Christian Goebel | Talk Fusion | $100,000 | $1,200,000 | www.goebel.pro |
| | 266 | Rob & Stephney Roder | Talk Fusion | $85,000 | $1,020,000 | www.talkfusion.com |
| | 277 | Mark Genovese | Talk Fusion | $80,000 | $960,000 | www.talkfusion.com |
| | 363 | Steve and Yvette Mitchell | Talk Fusion | $72,000 | $864,000 | www.LiveYourLife.net |
| | 383 | Bernhard Sammer | Talk Fusion | $66,000 | $792,000 | www.talkfusion.com |
| | 401 | Ron Wright | Talk Fusion | $65,000 | $780,000 | www.talkfusion.com |
| | 435 | Thomas & Eve Carter | Talk Fusion | $60,000 | $720,000 | www.talkfusion.com |
| | 484 | Mark and Vondalyn Robinson | Talk Fusion | $53,000 | $636,000 | www.talkfusion.com |
| | 499 | Aleksander Perevezentsev | Talk Fusion | $50,000 | $600,000 | www.talkfusion.com |
| | 589 | Desire Nongol | Talk Fusion | $49,000 | $588,000 | www.talkfusion.com |
| | 599 | Harald Steger | Talk Fusion | $46,000 | $552,000 | www.talkfusion.com |
| | 620 | Leslie Brown | Talk Fusion | $45,000 | $540,000 | www.talkfusion.com |
| | 652 | Sophie & Johnny Chung | Talk Fusion | $44,000 | $528,000 | www.talkfusion.com |
| | 653 | Steve & Dani Smith | Talk Fusion | $43,000 | $516,000 | www.talkfusion.com |
| | 655 | Steve & Kerrie Schwartz | Talk Fusion | $42,000 | $504,000 | www.talkfusion.com |
| | 659 | Vjacheslav Ushenin | Talk Fusion | $41,000 | $492,000 | www.talkfusion.com |
| | 802 | Andrew and Nancy Burling | Talk Fusion | $32,000 | $384,000 | www.talkfusion.com |
| | 803 | Bryan and Robert Conley | Talk Fusion | $32,000 | $384,000 | www.talkfusion.com |
| | 807 | Zoltan Acs | Talk Fusion | $32,000 | $384,000 | www.talkfusion.com |
| | 812 | Andrey Agafonov | Talk Fusion | $30,000 | $360,000 | www.talkfusion.com |
| | 813 | Arthur Kachanov | Talk Fusion | $30,000 | $360,000 | www.talkfusion.com |
| | 854 | Natalya Tarkhova | Talk Fusion | $30,000 | $360,000 | www.talkfusion.com |
| | 855 | Nick & Shannon Krapf | Talk Fusion | $30,000 | $360,000 | www.talkfusion.com |
| | 866 | Stefan Tenk | Talk Fusion | $30,000 | $360,000 | www.talkfusion.com |
| | 2068 | Artur Carvalho | Talk Fusion | $20,000 | $240,000 | www.talkfusion.com |
| | 2157 | Nelis van de Wateringen | Talk Fusion | $20,000 | $240,000 | www.talkfusion.com |
| | 3720 | David Zauner | Talk Fusion | $15,000 | $180,000 | www.talkfusion.com |
| | 4038 | Scott Scales | Talk Fusion | $15,000 | $180,000 | www.talkfusion.com |
| | 4612 | Alexey Fomin | Talk Fusion | $10,000 | $120,000 | www.talkfusion.com |
| | 4614 | Annalies Steger | Talk Fusion | $10,000 | $120,000 | www.talkfusion.com |
| | 4665 | Hagen Horst | Talk Fusion | $10,000 | $120,000 | www.talkfusion.com |
| | 4669 | Hitomi Shinzato | Talk Fusion | $10,000 | $120,000 | www.talkfusion.com |
| | 4672 | Istvan Szabo | Talk Fusion | $10,000 | $120,000 | www.talkfusion.com |
| | 4680 | Jeanne Edimo | Talk Fusion | $10,000 | $120,000 | www.talkfusion.com |
| | 4690 | Joe Reid | Talk Fusion | $10,000 | $120,000 | www.talkfusion.com |
| | 4703 | Krisztina Kalmar | Talk Fusion | $10,000 | $120,000 | www.talkfusion.com |
| | 4753 | Roza Alimukhamedova | Talk Fusion | $10,000 | $120,000 | www.talkfusion.com |
| | 4763 | Simon King | Talk Fusion | $10,000 | $120,000 | www.talkfusion.com |
| | 4770 | Svetlana Shodunke | Talk Fusion | $10,000 | $120,000 | www.talkfusion.com |
| | 4899 | Joseph Syverson | Talk Fusion | $9,000 | $108,000 | www.talkfusion.com |
| | 4903 | Marc Fellini | Talk Fusion | $9,000 | $108,000 | www.talkfusion.com |
| | 5267 | Adelia Perevezentseva | Talk Fusion | $7,000 | $84,000 | www.talkfusion.com |
| | 5268 | Andre Winata | Talk Fusion | $7,000 | $84,000 | www.talkfusion.com |
| | 5269 | Bruno Kim | Talk Fusion | $7,000 | $84,000 | www.talkfusion.com |
| | 5270 | CB Internet Service | Talk Fusion | $7,000 | $84,000 | www.talkfusion.com |
| | 5273 | Dirk Diemer | Talk Fusion | $7,000 | $84,000 | www.talkfusion.com |
| | 5274 | Esther Padilla and Luis Fiol | Talk Fusion | $7,000 | $84,000 | www.talkfusion.com |
| | 5275 | Franz & Reinhard Strommer | Talk Fusion | $7,000 | $84,000 | www.talkfusion.com |
| | 5277 | Hitomi Okamoto | Talk Fusion | $7,000 | $84,000 | www.talkfusion.com |
Showing 1 to 50 of 113 entries
[/private_platinum]