Joe and Patrice Licciardi – Momentis Interview
May 7, 2012
By Team Business For Home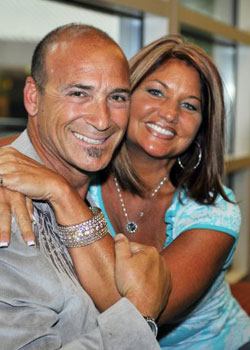 Joe and Patrice Licciardi formerly MonaVie Black Diamonds, now Regional Directors with Momentis. They spent almost 5 amazing years with their previous company and created one of the most successful organizations in that company.
In their downline organization Joe and Patrice had 1 Royal Black Diamond, 3 Black Diamonds, and many other high ranking pins. The couple resides in Missoula, Montana, USA and have 3 children, Allexandra, Krystle and Christian.
Their business spanned 14 countries with over 170,000 distributors and our total earnings in just under 5 years was almost $5 Million dollars. They have helped create 13 Millionaires over the course of the journey.
Ted Nuyten had the honor to interview Joe and Patrice.
Joe, how did you get involved in Network Marketing, what triggered you to listen in the first place?
Friends…PERSISTENT friends! Our lives have been nothing short of one Blessing after another, and no matter what path is put in front of us, God's hand is upon it. For the 25 years of our marriage, we had various businesses within the Health and Fitness industry, some of which brought us a significant degree of success. And yet, there was still something missing. As much as we believed in being our own boss, we also found that in traditional business there were many headaches; employees, customers, and overhead. It seemed that every time we went on vacation, we came back to, "Who stole, who quit, and who wanted their money back?"
We are firm believers that timing is everything in life and being introduced to this industry in 2007 was no exception to that rule. With the failing health of the economy and 2 businesses that were tied to the strength of the economy, we needed something new. And we found that something, when we ventured into the network marketing arena for the first time, almost 5 years ago.
Why were you interested in the business model?
We understood the power of leveraging the efforts of a Team and the freedom that "Residual Income" could provide. We have learned how to create a Team, develop leadership, and teach duplication within our organization, which has proved to be vital to our success.
When we started achieving success in the network marketing industry, we quickly realized that the fundamental principles that govern network marketing were so far superior to that of traditional business that we fell in love. Moreover, what makes this industry so attractive is the realization that there are not many job opportunities out there, where you can go to today, and be able to Dream as BIG as you want to. In network marketing, it has the "What If" effect. That is, "What if this really works, how different can my life be"? And that is why we believe that there is no other business model out there that enables this kind of success.
The Licciardi Family
Did personal development play an important part in your success?
Ted, both Patrice and I have spent a lifetime coming to understand the impact that personal development plays on one's success. In fact, our life experiences have taught us that through every expansion, there will come a retraction of some sort. And it is during those times of retraction that we believe the true character of a person will be revealed. What we have learned during those times (expansion and retraction) is that you must press forward even harder, with developing yourself. You see, the reason so many people fail to gain the success they truly desire is because they have not reached the level of personal development that is required to handle it.
Over the last 5 years we have grown more personally than any other time in our lives. The main reason is that we know the next time of "Expansion" is just ahead, and we want to be ready for a new level, and a new height of even greater success. To sum it up, most of the areas that we all should be continually spending time in our personal development are; our spiritual, physical, & emotional well-being, our personal and business relationships/skills, our financial stewardship, and our willingness to do good things for others-with our time and our money.
https://www.youtube.com/watch?v=Gi17LyNrdao
Why did you select the Momentis business opportunity and why was your due diligence so positive?
We will try to keep this as brief as possible, as there are so many reasons why we moved to Momentis. Momentis is the marketing arm of Just Energy a publicly held energy company. We have come to realize that no matter how good a product is, and in a suffering economy like we are in today, it is extremely difficult to get people to change their buying habits, outside of their basic needs, because the moment they run into financial hardship, many will stop ordering that product.
The challenge of trying to grow, or even just maintain their auto-ship can become next to impossible. So for us to find a network marketing company that has an essential product or service which every household must maintain, was beyond attractive.
For us, this meant that we'd be able to help a lot of people survive this bad economy, in a very healthy manner! Next, when we looked at the industry as a whole and saw that the average breakage (a new rep triggering that first check) was less than 40% and Momentis had a staggering 93% rate of new reps earning that first check, we knew that it had something very special to offer. We have always believed that if you can teach people to make more money more quickly, you can build an Incredible Team. Another key component in our decision-making process to change companies was where Momentis is positioned right now in the market place.
So many of the industry insiders have no idea about Momentis and the POWER behind it. It is our belief that this company will gain the attention of the network marketing world in the coming months, and we wanted to position ourselves ahead of the huge explosion, yet to come. If we did not think so, do you think we would have walked away from our Multi-Million dollar business? There is not one ounce of doubt that this move was the right move for us. We believe whole-heartedly that we will be able to help so many more families with the opportunity that Momentis offers.
https://www.youtube.com/watch?v=UMrxsjwlSY8
Energy MLM's are doing great in the USA, what is the reason?
Funny you should ask that question, as we just read an article in the USA Today comparing a "Penny Stock" from just a few shorts years ago, which is now creating wealth for those who invested into it. Then the article went on the say that the next BIG THING amassing to almost a 6 Trillion dollar industry was in the "Re-newable" Energy market and the de-regulation of energy.
Ted, think about it; First, you are able to give a person the right to choose whom they want to supply their energy. Then you have the privilege of teaching them that they can earn an income by just becoming their own customer, and then teaching others to do the same. Brilliant!! With Momentis being the marketing arm for, and being backed by the energy giant Just Energy, the future of Momentis here in the US and abroad has an incredible appeal to it. Futhermore, because of Just Energy, Momentis has the resources to, in it's near future, provide it's Independent Representatives and customers with Proprietary services which no one else in the industry will have.
https://www.youtube.com/watch?v=w3cijqJuJwA
What would be your advice to a Newbie in the Direct Selling Industry?
Make sure you choose a company that has all the proper components that a company needs to sustain itself during the formulation stage and beyond.
Be certain that whatever you do, you follow a proven & predicable pattern of activities that will lead you to success. From our past journey, we have been able to follow a great system, which we bring along with us in our new journey, and we will be teaching others to do the same.
Realize that the bigger your Dream, the bigger your WHY needs to be in order to achieve it. Financial & Time Freedom does not typically come to those who believe that creating success comes from working only 40 hours a week. It is every hour after 40 that you put in, that will take you one step closer to your freedom day.
Lastly, find a mentor who you can learn from, grow from, and be continually coached by. Be a skill set sponge. We might only have 5 years in this industry, and yet, we have been Blessed to have the mentorship of many of the industry giants who have been in the network marketing industry for a countless number of years. Their mentorship has proven to be invaluable.
In closing, we would like to say that the path of life is never a certain one, nor is it ever a path that is free from obstacles. So as you travel down your road of life, and you come across those inevitable obstacles, it is going to be "How" you deal with them that will ultimately determine how your journey will play itself out. Win Forward AND Fail Forward!
Joe and Patrice Licciardi contact details:
Joe and Patrice Licciardi
Momentis Regional Directors
Skype: Joe.Licciardi