Kenny Isbell – Cieaura Top Earner Interview
May 1, 2012
By Team Business For Home
Kenny Isbell is a Triple Diamond in CieAura and serves on the company's Presidential Advisory Council. He has earned an estimated million+ dollars in less than 3 years and is one of the top earners in the Direct Selling Industry. He is healthy, happy, 41 years young, father of 2  children, Madison (9) and Kenneth W. (6).
He loves fishing on the Texas Gulf Coast, USA where he resides. He prides himself on creating leaders, helping people and changing lives one person at a time.
After graduating from college, he worked for a NASA contractor for over 3 years, before joining the family oil business. Kenny settled in Pasadena, Texas where he currently runs the privately held family oil business, has built an impressive real estate portfolio, and builds his network marketing business part time.
Despite leading a huge CieAura organization of 25,000+ members in the USA, Europe and Southeast Asia, Kenny still makes time to invite new recruits into his business and give presentations.
Kenny's mission is to continue promoting the network marketing profession as a path to a more prosperous, well-rounded lifestyle by helping people achieve their goals around the world. Ted Nuyten had the honor to interview Kenny.
Kenny, who introduced you in the world of Network Marketing.
I initially got involved in the direct sales industry in the mid 90's with a company called Enviro-Tech direct selling a dry car wash product.  I didn't understand the network marketing model, so I mainly focused on selling product to individuals.  I was always intrigued with the idea of building a large organization and creating a residual income but never really found a product I could get passionate about.
Why were you interested in the business model in the first place?
I was intrigued with the business model for several reasons.  One was the substantial amount of income that could be earned without a major up front investment.  I have never seen a business model that can generate this level of cash flow on a residual basis without the risks associated with traditional business.  Network Marketing allows you to build a business without all the traditional business headaches, such as managing a building, payroll, insurance, inventory, receivables, payables, etc.  I love to travel and to meet new people and this business allows me to do both. With this business model, I can travel the world developing teams and friendships that will last a lifetime.
Why did you select the Cieaura business opportunity and why was your due diligence so positive?
I was initially attracted to CieAura because of the products.  I had never seen a product that could help so many people in such a short amount of time.  The products help people with their discomfort, get a better night's rest, increased energy, sinus allergy relief, cell phone EMF protection, etc.  What I liked best is that nothing enters the body.  The products work like "acupuncture without needles" and help your body balance itself naturally by influencing the energy flow of the body.
We don't have any competition on the products.  Most people get almost instant results from using the products. I was also impressed with the aggressive, proven, hybrid compensation plan, timing of the company and timing of the health & wellness industry as a whole. CieAura has a license and marketing agreement with the NBA & WNBA and has partnered with famous boxer Manny Pacquaio.  CieAura has also published some of the studies on their products in the Alternative Therapies Journal.
Why did you team up with your sponsor, what made him special?
My upline has been successful in the industry and has been mentored by some of the top earners in the industry.  They are dedicated to my success and the success of our team.
How did you start with building up your Cieaura team, out of the blue or did you have a smart plan?
We started by sampling out the products and letting the products do all the "heavy lifting" for us.  It's a "sampling" business model which makes it where ANYONE can build this business.  Once the products are sampled out we mention that there is also a home based business potential with our products.  We built it old school working through our team's warm market.
We built it by having small group meetings, one-on-one's, conference calls, Private Business Receptions in people's homes, etc.  We have now implemented an online training and recruiting portal called www.eTeamPro.com which is allowing for improved communication, more efficient recruiting, contact management, lead generation, etc.
Did personal development play an important part in your success?
Absolutely, every chance I get I read and listen to motivational material, work with a success coach, and attend motivational seminars.  I use time late at night, weekends or when I'm on a plane for personal development. I like this quote from Frank Maguire, one of the original Founders of FedEx:
There is gold within three feet from where you stand now, so stay away from self-pity, stop playing victim, and whatever you do– Keep digging. It's your turn! –
With Top Leader Jeff Dunham
Why do you think new rep's are teaming up with you, what is your strength?
We have a proven track record, proven product line with documented scientific studies, proven leadership and a proven compensation plan… my integrity and sincere willingness to help people, my commitment level.
What is the size of your downline and are they in other countries then the USA?
25,000+ USA, Europe, Southeast Asia, Latin America
Were do you think the company will be in 2 years?
I believe we will be doing 500 million in revenue and will have strong footholds in the 54 countries we're currently able to do business in now.
What advice would you give a Newbie in general
If you're a "Newbie" in this industry… "HAMMER IT" Go out there and give it you're ALL. If you're working the business part time, give your business a minimum of 10 hours per week and be consistent.  Develop goals and hold yourself accountable, get an accountability partner to help hold you accountable.  Work the same company for a minimum of 5 years and don't get "Shiny Object Syndrome" and fall for another company's mousetrap.  Stay focused.  It's a proven fact that as many as 95% of those people who remain in this industry for 10 years or longer reach the highest pay level in their respective company. Make a commitment to yourself not to quit.
With CieAura President JY
Does the company have plans to open (more) foreign markets?
The company has already expanded into 54 countries in less than 3 years! We plan to develop a stronger foothold in these countries before expanding into any more countries.
With Top Leader Elvin Hayes, Jody Barr and Romanian leaders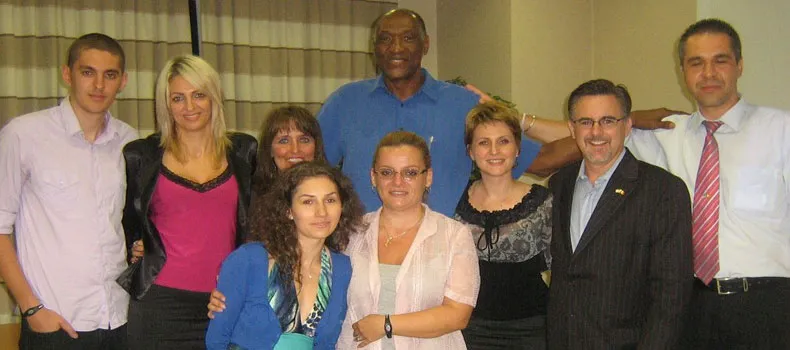 What are you favorite personal development books?
Three Feet from Gold by Lechter & Reid
Your First Year in Network Marketing by Mark Yarnell
Dare to dream! What you do on a daily basis is important. Our industry inspires hope, recognition, dignity & freedom to millions worldwide.
Contact details Kenny Isbell:
281-701-4000 or 832-603-9416
Skype: kennyisbell