USA FDA Attacks Nature's Pearl On Health Claims
May 4, 2012
By Team Business For Home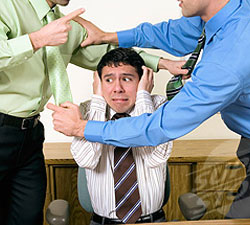 Nature's Pearl Corporation 4/19/12
Department of Health and Human Services

Public Health Service
Food and Drug Administration

Atlanta District Office
60 Eighth Street N.E,
Atlanta, GA 30309
Telephone: 404-253-1161

April 19, 2012
VIA UNITED PARCEL SERVICE
WARNING LETTER
(12-ATL-11)
Jerry W Smith, CEO
Nature's Pearl Corporation
3134 Cornatzer Road
Advance, NC 27006
Dear Mr. Smith:
This is to advise you that the U.S. Food and Drug Administration (FDA) reviewed your website at www.naturespearlproducts.com in December 2011 and has determined that your Nature's Pearl™ Premium Muscadine Grape Seed Supplement product is promoted for conditions that cause the product to be a drug under section 201(g)(1)(B) of the Federal Food, Drug, and Cosmetic Act (the Act) [21 U.S.C. § 321(g)(1)(B)]. The therapeutic claims on your website establish that this product is a drug because it is intended for use in the cure, mitigation, treatment, or prevention of disease. The marketing of this product with these claims violates the Act.
Examples of some of the claims observed on your website include:
Under the tab, Science and on the webpage titled, Human Clinical Trials:
• Inhibition of Cancer Cell Growth by Muscadine Grape Seed & Muscadine Grape Skin Extracts
• These results demonstrate that extracts from muscadine grape seeds and muscadine grape skins inhibit the growth of human lung, colon, prostate, breast, skin , brain and leukemia cells in vitro, suggesting that further studies are warranted to investigate their potential use in the prevention or treatment of cancer.
Under the tab, Science and on the webpage titled News Articles:
• The chemical· constituents of muscadine grapes … have shown several antitumor effects.
Further, the News Articles webpage on your website lists research and articles about the usefulness of the ingredient grape seeds in treating or preventing diseases.
When scientific publications are used commercially by the seller of a product to promote the product to consumers, such publications may become evidence of the product's intended use. For example, under 21 CFR 101.93(g)(2)(iv)(C), a citation of a publication or reference in the labeling of a product is considered a claim about disease treatment or prevention if the citation refers to a disease use, and if, in the context of the labeling as a whole, the citation implies treatment or prevention of a disease.
The following are examples of reference citations used to market your Nature's Pearl™ Premium Muscadine Grape Seed Supplement for disease treatment and prevention on your website:
• Unique Grape Seed Extract Inhibits Prostate Cancer Cell Growth in the Laboratory. U.S. National Institute of Health, September 1, 2007.
• Grape Seed Extract Kills Laboratory Leukemia Cells. ScienceDaily, January 1, 2009.
• Effect of Muscadine Grape Seed Supplementation on Vascular Function in Subjects with or at Risk for Cardiovascular Disease: A Randomized Crossover Trial. J Am Coli Nutr October 2010 vol. 29 no. 5 469-475
• Inhibition of cancer growth by muscadine grade (sic) seed and grape skin extracts. Wake Forest University Health Sciences' presentation at 2011 AACR Meeting, Orlando, Florida, April 5, 2011.
Your product is not generally recognized as safe and effective for the above referenced uses and, therefore, the product is a new drug under section 201(p) of the Act [21 U.S.C. § 321(p)]. New drugs may not be legally marketed in the U.S. without prior approval from FDA as described in section 505(a) of the Act [21 U.S. C. § 355(a)]. FDA approves a new drug on the basis of scientific data submitted by a drug sponsor to demonstrate that the drug is safe and effective.
Furthermore, your product is offered for conditions that are not amenable to self-diagnosis and treatment by individuals who are not medical practitioners; therefore, adequate directions for use cannot be written so that a layperson can use these drugs safely for their intended purposes. Thus, your product is misbranded within the meaning of section 502(f)(1) of the Act [21 U.S.C. § 352(f)(1)], in that the labeling fails to bear adequate directions for use.
Further, your website also makes the following statement: Nature's Pearl™ has been certified by the FDA to be in Full Compliance under FDA 21 CFR 111. This statement is false and misleading under section 403(a)(1) of the Act [21 U.S.C. § 343(a)(1)) because FDA does not certify compliance with the dietary supplement current good manufacturing practices under 21 CFR Part 111.
The above violations are not meant to be an all-inclusive list of deficiencies in your products and their labeling. It is your responsibility to ensure that all of your products and labeling are in compliance with the laws and regulations enforced by FDA. You should take prompt action to correct the violations. Failure to promptly correct these violations may result in regulatory action without further notice, such as seizure and/or injunction.
Please notify this office in writing within fifteen (15) working days from your receipt of this letter as to the specific steps you have taken to correct the violations noted above and to assure that similar violations do not occur. Your response should include any documentation necessary to show that correction has been achieved. If you cannot complete all corrections before you respond, please explain the reason for the delay and state the date by which the corrections will be completed.
Please send your reply to the attention of Marie Mathews, Compliance Officer, Food and Drug Administration, at the address in the letterhead above. If you have any questions regarding any issue in this letter, please contact Ms. Mathews at 404-253-1279 .
Sincerely,
/S/
John R. Gridley, Director
Atlanta District