Market America Launched into Mexico
June 12, 2012
By Team Business For Home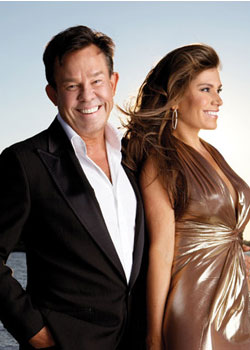 Direct selling company Market America, Inc., announces its official launch into Mexico. JR Ridinger, (Photo) President and CEO of Market America and SHOP.COM, Sr. Vice President of Market America and SHOP.COM Loren Ridinger, and other top executives will be in Mexico City to lay the foundation for the company's success.
Market America is a product brokerage and Internet marketing company specializing in One-to-One Marketing and social shopping. With this expansion, Mexican entrepreneurs can join a worldwide network of over 180,000 Independent Distributors and UnFranchise Owners to promote Market America-branded products, as well as hundreds of affiliate stores, through its consumer site MX.SHOP.COM while earning Cashback on millions of products.
MX.SHOP.COM offers an amazing online shopping experience including unique features rare to Mexico's consumers such as personalized Independent Shop Consultants, exclusive deals, product editorials and more. In addition, customers have access to a lucrative Cashback program providing up to 35 percent cash back on partner store qualifying purchases on over 1 million products including Victoria's Secret, Teva, Warner Bros, Bebe, Eddie Bauer, Express, Sears Español, JCPenny, Office Depot, Sephora, Pacific Sunwear and more top brands. By combining the scope of the Internet with the power of people, Market America is poised for explosive growth in Mexico.
Market America's vast growth is truly exciting. We are currently celebrating the astounding success of our recent launch into the United Kingdom and we are forecasting equally impressive results in Mexico. With the continuing growth of Internet usage in Mexico, the timing is right for Market America to join forces with Mexican entrepreneurs.We look forward to helping these entrepreneurs achieve business success with the power of the Market America business model as well as providing the most powerful shopping experience to customers," saysJR Ridinger, President and CEO of Market America and SHOP.COM
Market America will host a free business presentation, open to the public, for all those who aspire to own their own business. The event will be held:June 8 at 7:00pm Marquis Reforma Hotel Paseo de la Reforma 465 Col. Cuauhtemoc, Mexico City D. F. Mexico 06500
A number of long-time celebrity friends and supporters such as Eva Longoria, Alejandro Sanz, Paulina Rubio, La La Anthony and others celebrate Market America's entry into the Latin American market and continue to support the company's global growth.
Market America's success is largely due to the popularity of its exclusive products in the beauty, cosmetics and nutrition industries. Many of the most highly sought after Market America brands will be available in Mexico on June 6th including:
Motives by Loren Ridinger®– Loren Ridinger's award-winning cosmetics line
Royal Spa® – Luxury body & bath treatments
Skintelligence® – All-inclusive botanical infused skincare
Ultimate Aloe™ – 100 percent natural whole leaf aloe vera
ma Webcenters® – Internet products and services
(In the upcoming months, more Market America exclusive brands will be released in Mexico.)
With the use of social networks, MX.SHOP.COM offers customers the ultimate online shopping experience plus Cashback. The site even allows customers to earn up to 1/2% Cashback on all qualifying purchases made by their referrals.
Through the UnFranchise®Business model and MX.SHOP.COM, Market America provides a system for entrepreneurs to generate an ongoing income, while revolutionizing the way people shop. Market America generates impressive success in the United States, Canada, United Kingdom, Hong Kong, Taiwan and Australia where individuals have earned over US$2.4 billion in commissions and estimated retail profit. Market America is ideally suited to provide tremendous value to both entrepreneurs and customers within Mexico.
Market America is a product brokerage and Internet marketing company that specializes in One-to-One Marketing. With more than three million customers and 180,000 Independent Shop Consultants worldwide, the company has generated over $3.8 billion in accumulated retail sales. Headquartered in Greensboro, NC, the company was founded in 1992 by President and CEO, JR Ridinger and employs over 700 people globally with international operations in the United States, Canada, Taiwan, Hong Kong, Australia, United Kingdom and Mexico. Through its revolutionary One-to-One Marketing concept, Market America combines the Internet with the power of people – creating the ultimate online shopping destination. More information is available at MarketAmerica.com (https://www.marketamerica.com).
MX.SHOP.COM is a comparison shopping site designed to exceed the shopping needs of consumers and the business needs of merchants. Leveraging our extensive partner marketplace integration, and thousands of pages of unique shopping-centric editorial, MX.SHOP.COM helps customers Shop Smart, Save Big across hundreds of online stores.
Loren and JR Ridinger
The est. earnings for Market America top earners are as follows:
[private_platinum]
[/private_platinum]