Dallin Larsen – CEO MonaVie Interview
August 11, 2012
By Team Business For Home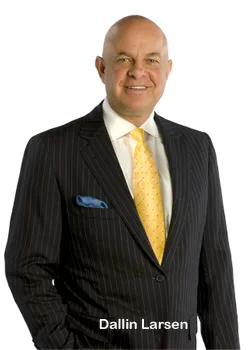 Dallin Larsen is CEO and Founder of MonaVie. The company was launched in January 2005, is a privately held MLM company and based in Salt Lake City, Utah.
Dallin Larsen graduated from Brigham Young University with a B.S. degree in finance. Larsen previously held senior executive positions with Dynamic Essentials and USANA.
MonaVie also owns and operates a charity organization, the MORE Project.
Dallin Larsen grew up in Rexburg, Idaho, USA was born in 1959, is married and has 8 children.
Ted Nuyten had the honor to interview Dallin.
Dallin, in the late 1980s you have been in the field as a distributor, why were you interested in network marketing; what triggered you in the business model?
I've always believed in the concept of leverage; similar to a musician recording a CD and being paid over and over for a song he recorded years earlier. I like the notion of everybody doing a few things and the masses benefiting together. I introduced my sister to network marketing in 1991. It's been 21 years since and still, each week, she continues earning a check off the work she did that first month, back in the fall of 1991.
That's the power of leverage that allows anyone with a dream and a work ethic the chance to change their lives forever.
Dallin, MonaVie had one of the fastest starts in MLM history, growing from zero to $750+ million. I can imagine such a fast growth brings lot of management challenges. How did you solve those challenges?
It's an ongoing process, for sure. I like to compare it to a football game. Sometimes the coach must act quickly and decisively to utilize the right players at the right time. And at other times, a bit more patience and discipline is required to trust that the current players and system will execute appropriately. And, similar to the game of football—a sport I love to watch and study—MonaVie has made many highlight-worthy touchdowns; we've made crucial blocks and tackles; and we've aggressively executed winning strategic offenses.
But we've also pushed and fought on the front lines to protect our position, fumbled a few times, and gone into the locker room needing to regroup and rally. In fact, I feel that right now—at this point in MonaVie's history—that we just came out of the locker room inspired by a Vince Lombardi–worthy vision to go out and finish what we started. I'm more excited and optimistic about the future of MonaVie right now than I have been in the past three years.
If the zero yard line marks when we started this company in 2005 and our goal is the 100 yard line, I'd say we are only right now at the 30-yard line in the history of this company. MonaVie is in it for the long haul, and we're in it to win it. And when I say that, I don't necessarily refer to beating our competition; I've always believed the wide world of community commerce is big enough for multiple opportunities. What I mean when I say that, is that we're in it to win it for every man and woman, every entrepreneur with a dream, every single parent, every family, and everyone throughout the world of MonaVie with a passion to be successful and live a More Meaningful Life.
It is no secret MonaVie sales have been flat for some time, but growth is back, what is the secret to gain momentum again?
Yes, growth is back! Many of our international markets are performing incredibly well, even beyond our expectations. An example of this is Brazil, the country from which we source the acai berry. At one point in our recent history, we were considering closing this market. But, instead, we were able to put the right leadership and resources into place, and Brazil, this year, is already up 9% over last year and 245%, month-to-date.
But when I think of growth and the need for success, I always look first to home base, and that is North America. With the introduction of our 3-in-1 Mx juice, the success of the MonaVie 90-Day RVLution, the MVP training system, and new leadership in North America, we are seeing the growth trend turn upward. We are streamlining things and focusing on what's important, and that, I believe, will lay the foundation for our future continued success. We also will be launching a key product in the coming months that, we believe, will enhance and, in some respects, change the way we do business at MonaVie.
MonaVie has a binary compensation plan; why did you choose for such a plan?
As I began looking at the statistics within network marketing, I found that the average distributor sponsored only two people. The problem with that statistic is that I couldn't find a compensation model that could work for the distributor who only sponsored two other folks into his or her business. With the Binary compensation plan—a plan I've worked with now for more than 20 years—folks have an opportunity to earn commissions when they sponsor as few as two other people. I
t's the fairest compensation model I can imagine in network marketing. With that said, I still put the specific compensation model that a company uses as pretty low on whether a company succeeds or fails. Nothing is more important than leadership, certainly not the type of compensation plan a company utilizes to reward their distributors.
What is in your opinion the main success factor for a newbie go choose the best Direct Selling opportunity: Products, Field Leadership, Corporate Management, Passion or Desire?
All those elements are important for success, and that's why community commerce and this person-to-person, direct selling business is so successful. Allow me to explain. The most important attribute a new distributor can bring to the table is passion. At MonaVie, we ask people, "What's your why?" In other words, what grand vision do you have for yourself and your loved ones that you want so bad you can taste it.
Or, conversely, are you in the direst of situations and have you reached a point where you know you need to make a change. As you can see, reasons for wanting to succeed can run the gamut. But many today have more simple reasons for wanting to join MonaVie: consider the mother looking for a constructive way to spend some extra time after her youngest leaves the house for college, or the father looking to supplement his current income enough to pay off a car or home ahead of schedule.
So, yes, passion is first and that's the most important attribute a new distributor can bring to the table. But here's the beauty of the entire model: it's the responsibility of the company to deliver exceptionally on all other points. One of the first brochures MonaVie ever created was called the "MonaVie Five Star Opportunity." It outlines how MonaVie offers the right product, the right timing, the right opportunity, the right management, and the right cause. These five factors for success still drive our business operations to this day.
For a new distributor in MonaVie, is it easier to start today than 7 years ago?
It's easier today because technology makes it easier to share. In addition, we have a phenomenal track record that we hadn't developed seven years ago. Within the past seven years social media has become a phenomenon that has striking similarities to the traditional direct selling business model, which is, simply: "I like this product/service; you're someone I trust and value; I'd like to share this with you." And while this business is still operated most successfully belly-to-belly, social media and other sophisticated forms of communication are now facilitating meetings and conversations between people who never would've met and in places never before possible.
What does your average working day look like?
My day starts early. Having grown up as a young boy working on a farm in Idaho, my days started early and were full of hard work. I often tell MonaVie employees that I want them to be on the early bus to work because we've got an important work to do. What we do at corporate ultimately supports the efforts of MonaVie distributors in 23 countries around the world who are trying to make a better life for themselves and their families.
It's a great blessing to be an employee at MonaVie because not only do employees support their own families through the salary they earn for the work they do, but the very nature of the business makes it so that whatever they do is directly helping another (the MonaVie distributor) support his or her family. It's a model that perpetually supports the creation of jobs.
Which personal development books are your favorites?
Outliers by Malcolm Gladwell immediately comes to mind for its unique outlook on what factors contribute to a person's success. In addition to environmental, genetic, and societal factors, Gladwell teaches the "10,000 hour" rule for success, which simply asserts that anyone who practices a skill for 10,000 hours will achieve expert-level proficiency at that skill. I love this principle and the enabling power of this book.
Gladwell, when asked what message he wanted people to take away after reading Outliers, responded, "What we do as a community, as a society, for each other, matters as much as what we do for ourselves." This is another principle in the form of a statement that I believe speaks to the essence of MonaVie's community commerce business model: an individual sets out to improve his or her own lot in life, but finds an entire support system waiting to assist.
Another groundbreaking book is Man's Search for Meaning by concentrate camp survivor Viktor Frankl. Life is full of highs and lows, and a lot of "middle of the road." But it's in the tough times of life that we need help beyond our own. This book speaks to the power of the indomitable human spirit and teaches that, "Every human being has the freedom to change at any instant. Therefore, we can predict his future only within the large framework of a statistical survey referring to a whole group; the individual personality, however, remains essentially unpredictable." I take this to mean that we can either become "one of the statistics," or we can choose to take control of our life and fulfill the destiny that God has intended for us.
What plans and goals do you have for the future?
My future is now. My plan is to live in the moment, to live deeply, and make the most of every opportunity. When the future gets here it will be now, so I always live in the now. My goals are to strike a balance between my important roles as a husband and father, and as CEO of this great company. The vision I have set forth for MonaVie can be summarized by our five core initiatives, which are: (1) Prove the Value of Our Products, (2) Perfect Our MVP Distributor Training System, (3) Build a World-Class Corporate Team, (4) Grow Our Markets, and (5) Grow Our Leadership.