OPN – SiteTalk Appoints New Executives
August 7, 2012
By Team Business For Home
Press Release: OPN is pleased to introduce some recent quality additions to the SiteTalk/OPN Management Group.
As SiteTalk and The Opportunity Network continue to grow throughout the world, so too does our staffing needs, and our recent hiring reflects our international growth.
OPN has decided to create a shared leadership management group, meaning that this management group will have equal mandates for each area of their expertise in order to help secure continuity and shorten the communication lines.
The new SiteTalk/OPN Management Group consists of:
Rune Evensen – CEO (Chief Executive Officer)
David Goh – CFO (Chief Financial Officer)
Frank Ricketts – CCO (Chief Compliance Officer)
Arve Evensen – COO (Chief Operating Officer)
Kjell Arild Tiltnes – CCO (Chief Communications Officer)

Arve Evensen – Chief Operating Officer
Arve is aged 53 and comes from Norway where he began his professional career as a Master Watchmaker, building a successful chain of stores with 21 outlets. He is also the inventor and founder of Zpey System which is an international brand of fly fishing rods and equipment. It is from this background that Arve first gained his skills as an experienced businessman and networker with an eye for opportunities and customer service. Arve then moved on in business and was responsible for the listing of a Norwegian telecommunications company on the Norwegian stock exchange. Arve is a recognised trainer, speaker and coach in Scandinavia where, for the last 13 years, he has been training on leadership development, staff development, business psychology and conflict resolution. We look forward to working now with Arve and witnessing his contributions to our operations.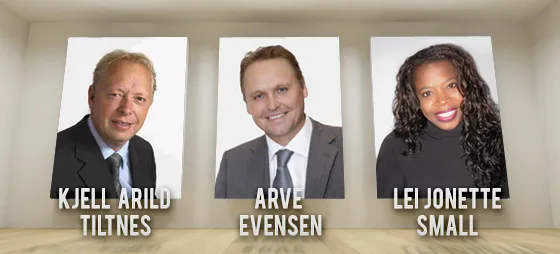 Kjell Arild Tiltnes – Chief Communication Officer
Kjell Arild is aged 47 and comes from Norway. In his diverse career, Kjell has always remained close to his area of passion which is communications and marketing. He has worked in the media for over a decade as a journalist, reporter, presenter and editor in radio and TV. He has gained valuable corporate and marketing experience as a project manager and events manager with company greats such as Audi, VW, Ford Motor Company, Nokia, etc. He has also worked in service and customer care, and has been highly successful in the field of Network Marketing, having succeeded as both a distributor and as a Chief Communications Officer for a Scandinavian Network Marketing Company. With his additional experience as a trainer, public speaker and coach in Scandinavia, Kjell is sure to add new dimensions to our communications, training and events.
Kenny and Thomas Nordlund are back in the field!
During the past years we have had enormous help from Kenny and Thomas Nordlund in their roles as Network Directors. This has, however, come at the expense of other areas, and we are now pleased to announce that these areas will again be the focus of the company. The amount of hours Kenny and Thomas have put into their roles as network directors cannot be calculated, but we do know that very few people would have been able to do it.
Thomas and Kenny will both take a step back from the management of the company in order to truly focus on the building of the network. They have requested this change for a while, and we have now agreed that they will do more in the next phase of the company in their new roles. It is very important that everyone understands how relevant they are for the company in their "new" roles as networkers. We cannot put into words how much they have done for the company, nor how much they will continue to mean. It is our firm belief that they will continue to build our company and the network in an amazing way. Both are true network marketers. It is in their blood and in their souls, and with their great energy they will have great impact on the next phase of our growth.

Once again, we thank Thomas and Kenny for all their great work so far! Both will be spending even more time traveling the world building OPN and teaching the principles of The Opportunity Network in an amazing way.

We would also like to introduce to you another new key staff member that you will see around the world. While not a member of the Management Group, Lei Jonette (L.J.) Small has been recently hired as OPN's Global Events Manager.
Originally from Los Angeles, USA, where she was working in events and artist mangement, L.J. relocated to the Netherlands over a decade ago where she has been working as a professional events manager with an emphasis on network marketing events. L.J. has gained for herself a great reputation in this area, with her demonstrated ability to balance analytical and creative skills to help create outstanding conferences and other events. She has also worked in commercial media, 3D animation, music production and voice-overs. We look forward to L.J.'s first big show for OPN that will be the October Convention in Hungary.