Tina Hockmuth – ViSalus Top Earner Interview
August 17, 2012
By Team Business For Home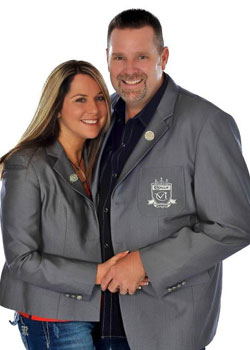 Her mentor Rachel Jackson calls Tina Hockmuth 'Federal Reserve' because of her ability to help people build paychecks. A 5 Star Ambassador with ViSalus, Tina resides in Johnston, Iowa, USA with her husband Ken and their 4 children; Kaitlyn (14), Jared (13), Aaron (7) and Kenna Grace (10 months).
As of July, 2012, Tina's monthly income is $60,000 with a team of over 8,000 active challengers and monthly team sales of around $1 million and growing fast.
When Tina joined ViSalus on August 15, 2011, she was 7 1/2 months pregnant with their 4th child. On complete bed rest Tina says she "was scared to death our family would be homeless when our baby was born." Their traditional business, a construction company closed, a victim of the rotten economy. Tina and Ken were working 12 to 14 hours a day, were in active foreclosure on their home, were 5 years behind on taxes and totally stressed out – the very picture of complete financial devastation.
When Tina saw ViSalus, she jumped in and seized the opportunity to turn her families' life around. She proceeded to reach the top of the compensation plan in just 45 days.
She built her business from the ground up – 90% enrollment line – no head start, no team she brought along. Her ViSalus business went viral and within 8 months Tina was a 5 Star Ambassador earning a $250,000 bonus which pays out over 18 months and becoming a ViSalus Millionaire.
Ted Nuyten had the honor to interview Tina.
Tina, before ViSalus did you have any prior MLM experience?
Yes, I had a little more than 10 years experience in MLM prior to ViSalus. I worked hard in a skin care company and after that, in a liquid nutrition company. These years were a 'failing forward' experience – I learned more than I earned. They were years of personal growth, moderate success and some hard failures.
I believed in network marketing though and our journey fueled our passion to help others build their fortress of financial security. Before ViSalus, I learned to dream and teach others to dream from some of the best leaders in the industry. One of those leaders said to me, "God put your provision in your work boots. When the opportunity of a lifetime comes along, you go to work." I did just that, I rolled up my sleeves and went to work focused on helping others. Now, ViSalus allows me to spend my days helping people make their dreams become reality.
Who enrolled you into ViSalus? Why did you accept their invitation to take a look at the business?
An amazing couple, Tyler & Mimi Ford, 2 Star Ambassadors, are our Enrollers. They introduced us to Rachel Jackson. It was Rachel who cast a vision so clear that I could see ViSalus was my vehicle to not only transform our lives but be able to help others transform theirs.
Hockmuth Family Photography by Michael Bandow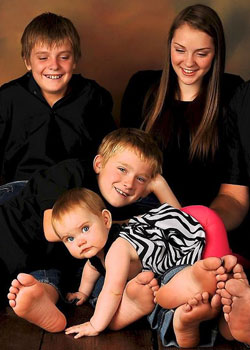 What attracted you to the business model, why did you put your time and effort into it?
Ahh, great question. The MLM business model is all about cooperation rather than competition and the ViSalus compensation plan is centered around helping the new person get their product free and get into profit mode today. That appeals to me as a way to work and a way to live.
I had been watching ViSalus for a while. A lot of companies talk about keeping it simple but ViSalus really delivers. They use a tools driven system that makes it easy for us ordinary people to have extraordinary success and viral growth.
I have always been passionate about helping others and the ViSalus compensation plan fosters leaders working with their teams. ViSalus rewards the 'servant driven' mentality, perfect for people who care more about their team than their paycheck. It makes it a great fit for me.

And, it's easy to say a company works that way, but I witnessed it over and over again, as I met the co-founders and other incredible leaders in our up line. Leaders like Rachel and Josh Jackson, Tara and Chris Wilson, Jason O'Toole and Jennifer Creamer, Nick and Ashley Sarnicola, Aaron Fortner, Jennifer May, and Molly and Chris Dalbec were the picture of Servant Driven Leadership. I was truly inspired by their life changing stories and passion for helping others. Real life stories that are happening quickly proved to me that the company, the products and the compensation plan really works. I knew I could make it work for my family too.
How many people did you sponsor?
Ted, these are amazing numbers. I have personally sponsored 48 people. Those 48 people have turned into a team of over 8,000 active as of July 2012! That's the kind of duplication you hear about and dream about and with ViSalus is a reality. Our success is truly about our incredible team.
Those are impressive numbers –What is your secret?
Oh easy, not really a secret, it's a straightforward formula, which provides viral growth when partnered with Visalus' tools driven system….
We get started TODAY
We get people into Profit Mode TODAY
Help our Challengers get their product free TODAY
| | |
| --- | --- |
| | |
| On Stage in Miami in front of 16,000 attendees | Top Earner fun |
As you can see our focus is on today…People want quick results. Some people like me, NEED quick results. Plus …
We keep it simple. We do NOT reinvent the wheel.
We attach ourselves to our teams' Reasons WHY they want to change their lives. We lock arms with those who want to run for their Why & their Goals.
We invest time and love into our team and support them to build a solid business.
We work at the bottom of our team building their paychecks which helps everybody all the way up.
We connect people to a corporate tool instead of becoming the tool.
We ALWAYS focus on how The Challenge will benefit those we share the product and business with, NOT what it would mean for us to have them on our TEAM.
We don't pre-judge. We sort. I can make up what I think you see and feel, but I'd rather hear it from you.
We also work with Savvy Sponsoring. I learned the fundamentals coaching with Jillian Middleton of Savvy years ago. She taught me how to focus on money making activities and how to deal with the inevitable challenges, including the mental blocks around success that we all experience. Classes at Savvy prepared me for the incredible opportunity ViSalus presented – I was ready!
The Hochmuth's Team Leaders – Among many others
| | | | |
| --- | --- | --- | --- |
| | | | |
| Amy and Matt Nelson | Beth and Johnathon Montpas | Brian and Tiffany Patterson | Candy Nelson |
| | | | |
| Duane and Teresa Clayton | Jared Overton | Emory and Stephanie Oldaker | Jeremy and Julie Cox |
| | | | |
| Jeremy & Mandee Hamann | Jody & Shondra Mcglaughlin | Kim and Mike Stuart | Kathi Bufalini |
| | | | |
| Kelley McCoy | Kenton and Ricky Pass | Kim and Dave Welch | Laura and Dave Severson |
| | | | |
| Laurence Seybold | Wade and Natalie Erickson | Matt Harkin | Melissa and Aaron Mcguire |
| | | | |
| Michael Flores | Paige and Elijah Paugh | Phil and Pinky Mongelluzzo | Summer & Shawn Lisk |
| | | | |
| Sarah Crocker | Tami Bixby | Tasha Gipple | Pat Scheffler |
| | | | |
| Terry Wygal | Tracy Oldaker | Natalie and Kory Kilbourne | Penny and Dan Franke |
| | | | |
| Steve Jones | Jew and Monique Lawrence | Kimberlee Sheppard | Shawn and Lydia Gutting |
What kind of people are teaming up with you?
People like Beth Montpas – an amazing servant driven leader who replaced her 15 year MLM income in just 45 just days after coming to Visalus so her team would WIN! These kinds of real life stories are what attracts successful people to our business. Real life Documentation beats Conversation.
But you know Ted, I think the biggest thing is Ken and I and our team lead from the heart. This is our calling. We are passionate about helping others with both their physical and financial health. Whether it be a financial Plan B to make sure there is always money to take care of little unplanned details like a car repair or to build a wall of financial security around their family that nothing can tear down.
It is not a matter of if life challenges happen, but when. Money equals choices. Just a year ago we were working 12-14 hours a day, I was pregnant with our 4th child and we had no insurance, and no choices. And now here we are. One year later and earning $60,000.00 a month. We have a lot of choices for our family and are able to give and help people and ministries in ways that we never dreamed possible.
They say that like attracts like. The people we are blessed to partner with and attract are servant driven people who are also passionate about helping others have success and WIN. It's a great formula for business success and a wonderful way to enjoy life!

Contact Details Tina Hockmuth: