A Rant From A Frustrated Network Marketer
September 4, 2012
By Team Business For Home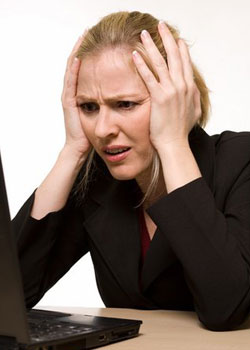 I received this email from Top MLM Trainer Tim Sales. All though it is a pitch for his Brilliant Communicator program, I do think he has a point.
Tim Sales:
A while back I got a letter from a frustrated network marketer that really hit home…
Dear Tim,
I'm sick and tired of it. I've spent hundreds of dollars on Products. I've spent 20-30 hours a week doing windshield time driving back and forth to give presentations to prospects. I'm following the script that my sponsor gave me to the letter…
When my sponsor reads it, they look at him like he's some kind of hypnotist rock star, but with me they check their watch and drum their fingers.
I just don't get it! My sponsor says the same thing, uses the same script, and he signs up 9 or 10 people per month easy! Meanwhile, I've only added one person to my downline in the last 6 months. And that person never sold a thing and quit after 3 weeks!!
Do I stink? Do I have spinach in my teeth? What's my %&$# problem?
The hardest part is that it all seemed like it would be soooo easy when I signed up…that's how my sponsor made it look anyway. I gotta admit…that there's something wrong with me… or was I lied to???
I'm starting to dread those I told you so looks from my wife and my in-laws. I don't want to believe that this whole M.L.M. thing might be the scam that they all said it was. But it's starting to feel that way.
Help!
Rich
Wow, that's some deep frustration and I really feel for Rich because I remember feeling almost the exact same way for the first few weeks after I started in the business.
I was gung-ho too. I started out doing everything my sponsor told me. I followed the plan, made the calls, set up the appointments, read the script. Everything by the letter. Hey, I'm a former military guy. I know how to follow orders!
But, the same thing happened with me. Very few sign ups. And the ones that did sign up didn't stick.
I practiced that script until I could say it backwards, but every time I gave a presentation I could feel the air in the room get hotter and more humid. Sticky. I could tell they weren't really paying attention. They were drifting away from me from the beginning. Biting their lip and squinting. Giving me a weak smile when I'd look them in the eye. Sometimes stopping me in the middle of the presentation and walking out.
What was wrong with me?
And I couldn't figure it out…I was reading the script word for word…but I wasn't getting results.
Why?
I now know why.
It's because a script is worthless unless you know how to communicate effectively.
And, for my money, the most important communication factor is confidence. Why? Because…
Confidence instills trust.
Confidence is attractive.
Confidence motivates people to take action.
Confidence overcomes objections and fear.
In fact, ask women what they find most attractive in men and most will say confidence. Not arrogance, mind you. Not cockiness. Not conceit. But confidence.
Imagine for just a moment that when you walk into a room, people find you attractive, trustworthy, motivating and calming.
Is that the way you feel when you give presentations now?
It's definitely not the way Rich felt when he wrote me the letter at the top of this email. It's definitely not the way I felt when I started out.
But I discovered how to be confident and went on to sponsor over 56,000 people.
How? By becoming a Brilliant Communicator. When I learned how to communicate effectively…brilliantly…I became more confident. It was no longer WHAT I said that carried the day; it was how I said it. It was what was going on in my head as I said it.
If you're feeling the same frustration Rich is feeling, don't give up. Don't blame yourself. Don't blame the business. Because becoming a Brilliant Communicator is not as hard as you might think…https://www.firstclassmlmtools.com/BrilliantCommunicator
To your success,
Tim Sales
P.S. Take action now to gain the confidence you need to become a Brilliant Communicator and start sponsoring more prospects (just like your super star Upline!)
At only $67, this 10 CD set training plus a huge Workbook is an incredible value. But don't let the low price fool you…this is a meaty training product that has helped thousands become top income earners with their company.
https://www.firstclassmlmtools.com/BrilliantCommunicator
Be sure to listen to the sample audio titled How To Have IT at the top of the page, and read through the DOZENS of testimonials to quickly see how discovering these skills will dramatically effect your sponsoring results.