FlexKom Opening The European MLM Market
September 3, 2012
By Team Business For Home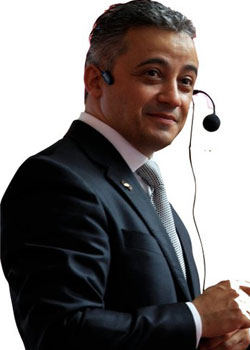 European Friends asked me to pay attention to Flexkom, and I noticed my friend Michael Sander from Obtainer Media already covered the company, so here you go:
Source: Obtainer Online
FlexKom, a Turkish based e-commerce company, which has, in the last two years built, by means of their shopping portal, a business with more than 32,000 distributors and more than 1.2 million customers, is expected, in July of 2012, to open operations in Holzgerlingen- near Stuttgart- under the name of FlexKom Europe GmbH.
Other countries are expected to be opened up successively. The fact that FlexKom is in the starting blocks with regard to European expansion has been proven recently by a FlexKom event that took place, at the end of May in the Turkish city of Konya. More than 3,000 enthusiastic FlexKom partners and top executives from German-speaking Europe as well as from the Netherlands and Poland attended. OBTAINER founder Michael Sander was on site and also attended the event.
When FlexKom was still in the developing stage in 2010, the management deliberately chose Turkey as the starting point for their technology startup, because this fascinating country is believed to be the next e-commerce hotspot.
According to data from the Turkish Interbank Card Center (or BKM in Turkish) the e-commerce market hit $12 billion in 2011. FlexKom seems to be best positioned to take advantage of a large consumer base that is young and dynamic as well as tech savvy and growing up in a booming economy.
FlexKom unites four core aspects, namely e-commerce (E), networking (N), direct selling (D), and franchising (F), therefore offering those involved the greatest possible opportunity and benefits. These four aspects also form the FlexKom E-N-D-F strategy, with which FlexKom is set on revolutionizing the Network Marketing industry.
The use of the Internet for e-commerce will soon become indispensable, with already more than 38% of all purchases being made online. FlexKom, Turkey`s first e-commerce network which combines shopping online, network marketing and also offers a business opportunity, has seen tremendous growth since it was launched in Turkey on February 2, 2011. The company's top management is made up of a team of three internationally successful networking professionals with decades-long entrepreneurial experience, which no doubt supports the company's success and future growth.
The FlexKom Shop is a place where consumers can purchase everyday items like household goods, healthcare products, communications gadgets, trips, personal care, sundries, and much much more for prices far below going market prices. Products, which are the most popular not only among Turkish online shoppers.
This shopping option has grown tremendously since the business started in 2011, and by the end of May 2012, had more than 32,000 distributors and more than one million registered customers.
High population, increasing urbanization and changing socio demographics have led to the growth of the direct selling industry in Turkey. The Direct Selling industry`s growing confidence also makes it an ideal platform for continued growth, and especially so among women and youth. Today, there are over 71 million people living and working in Turkey. Over 800,000 of them are involved in this industry. Companies operating in this sector have reported sales of over US$500 million which have developed over the last five years. Half of Turkey's population is also under 30 – one of the youngest populations in Europe – and has grown up with the Internet, so many people don't have any difficulty identifying with the FlexKom model.
The FlexKom model is also so devised that everyone has something to gain: Customers receive a free customer card and great discounts on products of their choice; and retailers receive a turnkey concept for only EUR 150! With such an en vogue business, distributors also have the opportunity to build large, successful organizations.
The Turkish DSA just last year in October 2011, hosted the "East Meets West: New Frontiers for New Opportunities" conference where OBTAINER was one of the sponsors. As countries in the Western hemisphere continue to report maturing markets reaching saturation point, new growth and development is now sought, resulting in the move towards the Eastern hemisphere, where great opportunities abound.
FlexKom keeps stride with these modern times when men, women and children of all ages are visiting community sites, online shopping sites and social media portals and using e-mail on a daily basis.
Backed by tremendous experience, expertise and momentum, the company now also has its eyes firmly set on Europe, where it was launched in April 2012 in Germany and is currently preparing for the opening of seven European countries. FlexKom has big goals; by 2017 this young company expects to have opened 40 countries reaching more than 200 million customers with its E-N-D-F strategy. The company estimates an average monthly consumption worth EUR 50, thus reaching 10 Billion Euro in a month, i.e. 120 Billion EUR turnover in a year.
The distributor is building, with the help of his partner, an individual-network that will have, as a FlexKom-partner, discount and other benefits which can then be passed on to their customers by means of a free loyalty card. This is a 3-fold win-win-win situation: The individual distributor can offer attractive discounts to their price conscious customers without needing to bargain at the cash register and can, therefore, tie the customer even closer to himself; in addition, the distributor already benefits financially from previously made sales.
Michael Scheibe, the FlexKom Marketing Manager, sums it up in this way: We are mainly looking for people who understand that building a large and profitable business depends on the number of customers that use these products on a daily basis The individual distributor already has these customers: With us, everybody wins!
In addition, the customer also benefits when booking FlexHoliday" trips if he uses Flex-GSM or purchases through Flex Worldshop.
A study, by TNS Media EMNID and Social Research from February 2012, showed that an average of 4.4 cards is always in the wallets of Germans. If you can then also utilize the customer cards in several additional stores and if the coupon program still offers more discounts which will bring still more noticeable savings and advantages, then this is the optimal way to insure that these cards maintain their place in one`s wallet. FlexKom has included all those wishes within a single system, said Michael Scheibe the Marketing Manager at FlexKom.