Vidacup International Announces CEO
September 25, 2012
By Team Business For Home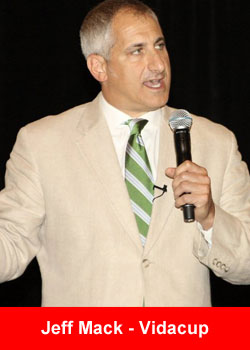 Mooresville, NC September 24, 2012: Vidacup International™ is proud to announce Jeff Mack as its Chief Executive Officer – a powerhouse who's certainly familiar with being at the top of many short lists, including:
• Multimillion-dollar earnings from total sales of nearly $100,000,000
• Large international sales teams
• Advisory Board Member for several direct selling companies
• Keynote Speaker at numerous conventions and expos
• Recognized and sought after as one of the top speakers, trainers and recruiters in the Direct Sales industry
• Profiled in Wave 4: Network Marketing in the 21st Century by New York Times bestselling author Richard Poe
• Co-Author of The Ultimate Guide To Network Marketing, 2006
Jeff now brings that wealth of experience in the direct selling industry to his position as CEO of Vidacup International™. He has learned, first hand, the important things that will define a successful company. Although he started his professional career as a civil engineer, he soon realized that he was grinding out a living and really not having much fun. He'll tell you that it was great to say he was a "civil engineer" but deep inside he felt unfulfilled. Then, in his mid-20s, Jeff was introduced to the Direct Sales industry.
As he puts it, "Something inside me woke up and screamed, -This is your chance!" With a part time (not spare time) effort for one year, he was able to quit his job and devote all his time to growing his own business. The next year his income tripled and in his third year he earned more in a month from a home-based Direct Sales business than he had earned in his best year as a Civil Engineer.
And, he was his own boss and having, really having, fun!! That experience gave him first hand evidence of the power of direct selling and began the love affair with this industry that has defined his life and career. Jeff will tell you "I'm just an ordinary guy with an extraordinary drive, a drive that has taken me places and given me opportunities that were unimaginable twenty years ago."
Vidacup International™ is the culmination of several years of planning to move his focus from the field to the corporate side of the industry. With what he has learned and mastered over the last 2 decades, he knows what will be important for our Brand Promoters to really experience the success they desire. Jeff is committed to leading Vidacup as it provides the products, the tools and the systems that will help our associates create a lucrative and rewarding home-based business, and to be proud to call Vidacup "home".
About Vidacup International
www.vidacup.com Vidacup International is a network marketing company distributing coffees, teas and other functional beverages. The company is headquartered in Mooresville, NC. For more information, for general public: Donna Valdes, CMO, [email protected] (704)660-8432.