Herbalife's Nutritional Club Sales is Booming
October 15, 2012
By Team Business For Home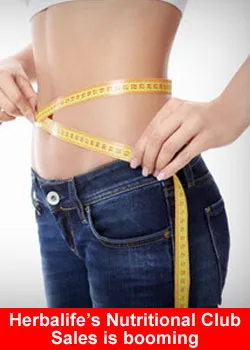 A great strategy for other weight loss Network Marketing companies?
G.Hudson, analyst for Seeking Alpha made an in-depth analysis around Herbalife's Nutritional Club Sales which is booming.
Hudson:
Michael Johnson – Chairman and CEO: Over the past several years, a growing portion of our business has been driven by our distributors around the world moving to daily consumption business methods with long-term sustainable customers. We believe that daily consumption business methods now generate approximately 40% of our volume. With more than 36,000 non-residential nutrition clubs operated by our distributors around the world, Herbalife products and distributors are more accessible to more customers than ever before.
NOTE: Actually Herbalife in investor presentations currently give a range of 35% to 41% of global sales are from nutritional clubs.
In 1999 a Herbalife coach and his wife in Mexico City, Enrico Varella, started a new concept which they called Nutrition Club, no longer is a one-on-one session with a client, but is a group based daily health program. People were encouraged to attend the club on a daily bases and were enticed to bring new friends to the club. They duplicated their first clubs many times in Mexico and attached a training program to the system for new club owners to learn in a very practical and hands-on concept.
It took a few years to catch on in Mexico (2003) and a few more years to make its way to the U. S.(2006) as well as to a few other countries as documented by these club numbers reported by Investors Business Daily in the 1/25/2012 article – Herbalife Continues To Display Strength.
Mexico now has an estimated 25,000 clubs; the U.S., 8,500; Brazil, 1,000; China and India, 800 each. That's according to a Dec. 15 research note from Janney Capital Markets, which sees the potential for big gains.
Herbalife Nutrition Clubs are different from other types of popular businesses, which may see some customers 3 or 4 times per month, since most of their nutrition club customers (over 55% in the U.S.) actually visit the club on a regular or even a daily basis as per the below chart which is based upon a 2010 survey conducted by Herbalife.
These clubs develop a loyal following which allows them to produce more sales from fewer customers. After a customer joins one of these clubs, it's a lifestyle change for them, and they can become a long term regular customer of the club.
Also as a result of these improved nutritional club results, Herbalife has achieved an increased retention of sales leaders (27% in 2002 to 52% in 2011) and an increase in activity by sales leaders (37% in 2002 to 57% in Q2 2012) as well as a decrease in inventory buybacks (2.2% in 2002 to 0.3% in Q2 20112) per the below chart.
Source: Seeking Alpha