Shopping Sherlock Revenue Up 50%
October 23, 2012
By Team Business For Home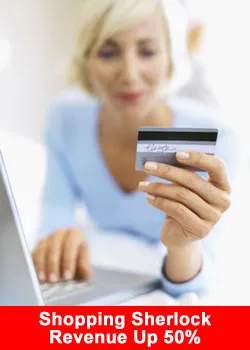 Shopping Sherlock announced that the 3 month growth in Alexa page views of 170% is the highest growth rate in the Direct Sales space as reported by Ted Nuyten's leading MLM blog Businessforhome.org.
The rise in web traffic correlates with the increase in new distributors and Company revenues. New distributorships are up over 300% in that period and overall revenues are up over 50%
Michael Wiedder, CEO of Shopping Sherlock stated that the growth is a direct correlation to the launch of new products and tools. "We released our Daily Deals platform in 12 countries and just recently launched Taiwan as well. With our platform you have access to the top Daily Deal Company's worldwide and our distributors make affiliate income as people buy and use the same Daily Deals that they are currently buying.
In addition to seeing and buying the Daily Deals from our site, as people are searching for products and services on Google, Yahoo or Bing, our technology lets them know if there is a Daily Deal, or a coupon available for what they are searching for, right from the search engines. As our distributor's share the Daily Deals or coupons via facebook or other social media , it tracks the sales right back to the distributor's account, and they make money."
Wiedder also shared that they are launching their new mobile application on November 1st. The mobile app will allow people to find Daily Deals and Coupons, wherever they are worldwide. It uses your smart phones geo-location feature to show you the Daily Deals and coupons that are available where you are and pays for using those deals and sharing the app with other's.
In addition, Shopping Sherlock is launching a Social Media platform for their reps this week. Wiedder stated, " The Social Media platform will give Shopping Sherlock reps, their own blogs that will integrate with all their social media accounts. This combined with the marketing system the distributors receive, gives them turnkey tools to help share and build their businesses."
Wiedder's goal is for Shopping Sherlock to be the place to go to find the best deals on products and services both on the Internet and on mobile devices. He believes that as people continue to give the product away for free and benefit as people save money, the Company will continue to duplicate the growth they have achieved in the last 90 days in customers, revenues and new distributors.
More info: