Steve and Yvette Mitchell – Talk Fusion New Grand Blue Diamonds
by Ted Nuyten on October 23, 2012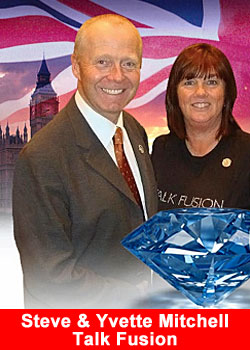 Steve & Yvette Mitchell from the UK have achieved the rank of Grand Blue Diamond in October 2012 through their hard work and dedication to helping change the lives of others around the world!
The couple achieved the dizzy heights of Double Diamond with Talk Fusion in record-breaking time – one of the fastest in the history of Talk Fusion, and in only his second month with Talk Fusion, Steve reached and replaced his previous five-figure a month income.
Steve Mitchell, with the support of Yvette, his wife, has been involved in the industry of relationship marketing since 1989 but though the Englishman has already achieved a great deal, the path to becoming one of Europe's most successful networkers was not easy, with his network marketing success story starting from being totally broke.
They are an inspiration to Talk Fusion Associates everywhere, and living proof that when you get plugged In to the principles of the Talk Fusion Diamond Rush Training and teach your team to do the same, there is just no limit to what you can do! What an amazing accomplishment!
About Talk Fusion:
Talk Fusion is founded by Bob Reina. Bob began his relationship marketing career as a part-time income earner while working full time as a Police Officer. Graduated first in his police academy class, Bob holds a degree in Criminology from the University of South Florida. Starting in the US in 2007, the Video Email Product offering expanded into over 85 countries. Talk Fusion's story began with a vision for a revolutionary product and the determination to make it happen.
Talk Fusion Top Earners –

The est. earnings for 115+ Top Distributors are as follow

s:
The other part of this content is protected for Platinum members only, you need a SUBSCRIPTION.