Talk Fusion European Now Event – Sold Out!
October 9, 2012
By Team Business For Home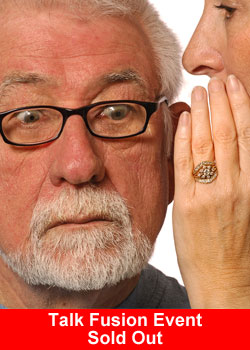 Talk Fusion, has announced that Founder & CEO Bob Reina and VP of Training & Development Allison Roberts are hosting with some of the company's Top Leaders an astounding two-day NOW! Event featuring live Diamond Rush Training led by Reina in Prague, Czech Republic.
It seems the event is sold out.
Prague was selected as the host city for Euro NOW! because of its centralized location to the more than 135 countries worldwide where Talk Fusion offers its cutting-edge video communication products and its life-changing opportunity.
Talk Fusion Associates from European countries and other nearby nations, such as the Czech Republic, Austria, Netherlands, Russian Federation and Spain, to name just a few, are gathering for this once-in-a-lifetime experience October 27 and 28, 2012, at the Prague Congress Centre, where high-ranking company leaders will also assemble to share their inspring stories about life-changing success.
Talk Fusion Top Leaders attending the event are:
Minh & Julie Ho of Oregon, USA
Rob Roder of Florida, USA
Thomas & Eve Carter of Florida, USA
Andrew & Nancy Burling of Wisconsin, USA
Leslie Brown of Florida, USA
Steve & Yvette Mitchell, United Kingdom
"This NOW! Event in Prague is an experience that none of our Associates will want to miss," Reina said. "People will be recognized for their success, hear inspirational stories from our Top Leaders, and learn from me how to go from zero to Diamond in 200 days or less. My goal is to move Talk Fusion from their heads to their hearts, then show them that there is nothing they cannot accomplish. I look forward to seeing everyone there from the European Teams."
| | | | |
| --- | --- | --- | --- |
| | | | |
| Bob Reina | Allison Roberts | Minh & Julie Ho | Rob Roder |
| | | | |
| Thomas & Eve Carter | Andrew & Nancy Burling | Leslie Brown | Steve Mitchell |
In addition to the Talk Fusion Opportunity and Diamond Rush Training being available to Associates, the company's focus is also on affordable video communication products that constitute a game-changing evolution of online communication. Talk Fusion Video Email, Video Conferencing, Live Broadcasting, Fusion On the Go mobile apps, Video Blog, Video Share, E-Subscription Forms, Video Auto Responders, Fusion Wall—a 3-D social network, and the soon-to-be-released Talk Fusion Video Newsletters represent both the ultimate product for business or personal use, and a definitive value throughout the industry.
ABOUT TALK FUSION
Talk Fusion is a rapidly growing global company that provides a Cutting-Edge Video Communication Solution to businesses and individuals. The company, founded in 2007 by CEO Bob Reina, offers an exciting income opportunity based on a unique perspective of the Relationship Marketing business model. While other companies may pay commissions weekly or monthly, Talk Fusion has introduced the world's first and only Instant Pay Compensation Plan.
Bringing together the world with the power of video by delivering a superior Solution is a top priority because Reina, a former Hillsborough County Sheriff's Deputy, and the Talk Fusion team have a passion and enthusiasm for charity and the dream of helping people live life on their own terms. While the company adheres to the highest ethical business practices, Reina firmly believes that "with great success comes greater responsibility." To that end, his commitment to giving back has benefitted various charitable organizations. Like Talk Fusion at facebook.com/TalkFusion. Learn more about us at TALKFUSION.com.