Adam Paul Green & Derrick Winkel – Xocai Hit $4 million in Career Earnings
November 11, 2012
By Team Business For Home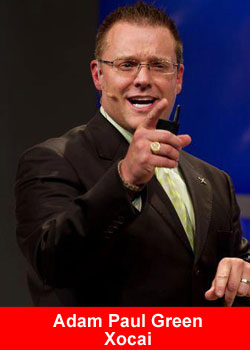 As of November 2012, the network marketing Top Earners Adam Paul Green and Derrick Winkel have now amassed over $4 million in income with MXI Corp (www.mxicorp.com).
At close of business last week, this achievement marks an incredible milestone for Adam Paul Green and Winners Circle International (WCI).
In order to reach this momentous goal, WCI had to make many sacrifices. Winner's Circle total healthy chocolate sales are now over $80,000,000. Even more notable is the fact that WCI has established over 107,700 business centers since 2005.
Both partners agree that, "People are our passion. Xocai does the right things for the right reasons and the right time."
Business partners Adam Paul Green (Draper, Utah) and Derrick Winkel (Los Angeles, California) are the number two money earners in Xocai, the trademarked "Healthy Chocolate Company. Their company, Winners Circle International (WCI), has been awarded every recognition possible by MXI Corp for their hard work, ethics, dedication, performance results and overall positive attitude.
Although there have been numerous trials of faith for WCI over the years, Adam and Derrick feel inspired by their team mates efforts to market chocolate internationally. Since 2005, Adam and Derrick have been an integral part of the leadership team at MXI Corp. As founding distributors and members of MXI Corps' Field Advisory Board (FAB), they most enjoy working closely with MXI Corp owner and CEO, Andrew Brooks, in addition to spear-heading international expansions for the company with Master Distributors Jeremy and Karen Reynolds.
Derrick Winkel is a veteran of Network Marketing with over 27 years' experience. Derrick is a rare breed; he has earned over $14,000,000 in MLM. In 1985, Derrick began his journey in Salt Lake City, Utah. From Salt Lake City, his new skin company grew from the US market into an international business.
This incredible business operated in the US, Hong Kong, Taiwan, Australia, New Zealand, Japan, UK, the EU, Southeast Asia and even into mainland China. Some may find it hard to believe that Derrick Winkel's successful career in Network Marking began as a bellman in a 5 star hotel in downtown Salt Lake City, Utah. As a bellman, he was able to meet many successful, international business people. Derrick fell in love with MLM at that moment.
Xocai is the first Network Marketing Company for Adam Paul Green to build. Adam is traditional businessmen and an entrepreneur. Since 2000, he has been involved in the Health and Wellness Industry as a successful Entrepreneur, Product Developer and Manufacturer of Anti-Aging Skin Care and Juice Products.
During his career, Adam has helped the most recognizable retail businesses and the dozens of the top 200 Network Marketing companies obtain incredible success through innovative Product Development and Customized Manufacturing. As a cosmeceutical product developer, Adam has had the privilege of working with and for the most notable Fortune 100 companies.
He's also learned from the best international business minds in the world; which is a distinct honor for him. Adam's lifetime sales are over $457 million.