Banners Brokers Scam Alert By MLM Watchdog Rod Cook
November 28, 2012
By Team Business For Home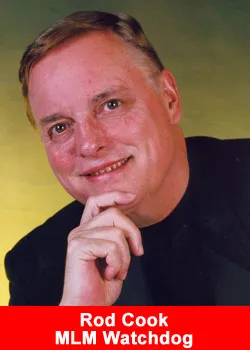 Rod Cook from Texas, USA is the MLM watchdog. Rod's primary activity is working on MLM Pay Plans and he has written books on them. He is sometimes called the MLM Pay Plan Oracle because his work is Americas MLM Consultants.
Rod Cook:

The MLM Watchdog's aim is to serve, inform & protect you, the distributor, and the MLM community.

An Internet source that is unbiased! We don't belong to companies or take ads!

We don't put out information to sucker you into joining a company! We have a 20 year history to prove this!
Today Rod Cook has send out the folowing world wide scam alert about Banners Broker:
BANNERS BROKERS SUPER PONZI ?
It appears to be a sophisticated, complicated, and well disguised Zeek Rewards caliber company that feeds entirely off new recruits and new money. It appears as though you are buying banner advertising and sharing in the click revenue, etc . . . but in reality, it is one of the most sophisticated ponzi scams on the Internet.
Their website is www.BannersBroker.com Editors Note: I have spyders on that site and if you sign up I WILL BREAK YOUR FINGERS! Continued here is a critical website> BEWARE >There are other scams on it with a jillion affiliate grabs!
It gives some insights as to how the Banner Brokers scam works to steal participant's money in this Ponzi that may beat out Zeek Rewards: Banners Brokers scam warning.
Banners Broker Alexa Ranking 28 November 2012