David Moses – Zija International Top Earner Interview
November 21, 2012
By Team Business For Home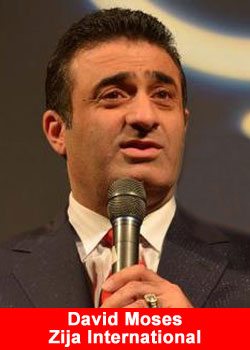 David Moses is the Master Distributor and Top Income Earner in ZIJA International and is the company's first Crown Diamond Elite. He has achieved number one status in every company since his career began, including holding senior executive positions for several large Network Marketing companies. David is married and has 2 children, the family resides in Toronto, Canada.
Collectively David's organizations worldwide have exceeded a billion dollars in combined sales over his career.
David Moses is recognized as one of the top industry trainers, a success coach, and a high level industry executive and his ability to sponsor, teach, and duplicate has resulted in ten of thousands of success stories worldwide.
My number one passion today is helping others realize their full potential and thus achieve their dreams, goals and aspirations.
David estimated industry earnings exceeds $10 million and is tracking this year for $2.5 to 3 million. I believe, just for myself, the ZIJA opportunity will create 10 million in commissions within the next 24 to 36 months alone. Why? Because so many others are having success and my success is tied to others having success.
This business allows me to earn more part-time than my other 5 businesses combined, and this is why I believe Network Marketing is the best opportunity for the average person to create an above average income and lifestyle part-time
Ted Nuyten had the honor to interview David.
David, how did you get involved in Networking?
I believe I was born to do this…… back in December of 1989 I was walking through a building after visiting my accountant. At 27 I was looking for my path and had stopped in to peak into the unemployment office that was on the same floor, I picked up a free newspaper full of ads, and one of the ads led to a Network Marketing presentation, my first exposure……it was water filters.
https://www.youtube.com/watch?v=XHUzVLzvek0
I got excited about the potential, then I went home and on that day my mother referred me to a friend who worked at a company that she felt I should look at. Incredibly it was another Networking company marketing a different water filter. This was beyond coincidence, I felt it was destiny…….I have been in the industry since that day.
Developing our interpersonal skills, leadership attributes, and confidence are key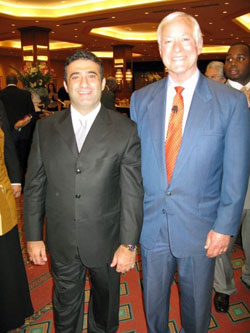 Why did you join ZIJA ?
It's quite simple I wanted a company that would not go away after a couple of years; I wanted a company that I could pass on to my kids. There are so few companies that we could call Legacy companies, we could practically count them on two hands.
You see ZIJA is owned by the Brailsford family, and Ken Brailsford co-founded one of the first network companies in the state of Utah in 1972, NATURES SUNSHINE PRODUCTS (still in business today). He also founded Enrich International. Most of the biggest companies of the last 15 years or so can literally trace their roots back to Ken's companies of the 1970s and 1980s.
I wanted to be associated with that kind of track record, because I had never failed to build an organization, companies had always failed me. Now of course products are critical, timing is extremely important, compensation must be aggressive, and there must be a robust infrastructure to support the big vision.
ZIJA has it all and with all these ingredients, the environment for an unlimited number of people to succeed is here. Ultimately I joined this company because I knew I could help so many people earn 6 and 7 figure annual incomes, and thus hit my goal of multiple 7 figure incomes.
Why ZIJA Now?
It is extremely important for anybody looking at this industry to catch a company in growth, obviously if we are in a company that is growing then we too can grow with that company. If we are in a company that is shrinking then it is difficult to grow when the walls are coming down. ZIJA has gone from less than 500k per month in sales in Sept 2009 to more than $11.5 million per month as of November 2012.
More importantly the company is tracking to over double that in 2013 that will make us the fastest growing company relative to our size in 2013.
You have been called one of the most inspiring trainers and speakers in our industry, why?
Thanks Ted, that's a wonderful compliment. My style of communication utilizes a lot of personal stories, difficulties, challenges, and triumphs too, all of which build bridges with my audience. You see people can't meet and relate with success without hearing the stories of challenges that go with it and this is why it is so very important for us to embrace and capture all of what appear to be our failures. Failures are the fertilizers that create the foundation for our success, but we only get to see that in retrospect. There are many stories that are great examples of this.
When people hear of my challenges along the way they are inspired to overcome theirs.
What is your biggest challenge as a Top Earner?
There are many challenges as a top earner, but since you asked which is the biggest, I will dig deep and give you the true answer. The challenge is and will continue to be that of personal development…….as Jim Rohn said Income does not far exceed personal development, unless we go out where it is, it will usually come back to where we are.
In order for me to continue to grow, I must continue to refine my leadership attributes and character traits…….when your earning multiple 7 figures one could fool themselves and think they have arrived somewhere. I never forget where my success comes from, a great team of leaders who have strived to hit their goals.
| | |
| --- | --- |
| | |
| The Family | On Stage |
Your career has seen growth and success, each success greater than the last…how?
I have never stopped building, I am always in prospecting and relationship building mode and always looking to help another person reach the next level. If we are constantly building others, empowering, inspiring, and advancing their success……then we will always advance ours. ZIG said it best If we help enough other people get what they want we will get what we want.
I am always willing to invest time, money, and expertise in somebody who is willing to go for it…….always looking for the person who wants it.
David Moses' Leadership Teams:
| | | | |
| --- | --- | --- | --- |
| | | | |
| Ron Golz | Karen Hill | Phil Jakobson | Fred Holmes |
| | | | |
| Ashley Moses | Dai Cho | Jiri Hradsky | Mark Mandela |
| | | | |
| Darrel Eyre | Dr. Howard Fisher | Global Online LLC | |
What is your goal for 2013?
Sponsor 3 new people and help them break 6 figures or more their first year in ZIJA.
How has Network Marketing enhanced your lifestyle?
Financial freedom and most importantly, time freedom.
Any tips and/or techniques for the next generation of success in our industry?
Here is a short list of skills to master as you become a leader.
1. Master the art of the invitation. A few simple ice breakers that generate a yes every time are helpful. Master using the system as you sponsor people, the system gives you leverage and duplicates.
2. Duplication is what builds the team which builds the check.
3. Help and support others to do the same, in other words teach them.
4. Always be working on yourself, we call this personal development, everything gets better when we get better. Jim Rohn said, Better is not something we wish, better is something we become.
Any last thoughts?
I would like to share a few quotes that have much wisdom as it relates to our business:
"The only true wisdom is knowing that you know nothing." This keep us teachable which is crucial in our business.

"Failure defeats losers, failure inspires winners." – Robert T. Kiyosaki.

Failure is the fertilizer for success, embrace and capture failure.

"People often say that motivation doesn't last. Well, neither does bathing – that's why we recommend it daily." – Zig Ziglar
The system and the team provide much of this motivation, stay plugged in to yours.
Contact details David Moses:
www.facebook.com/david.moses.169
Canada Zija International Toronto Launch