Empower Network – A Smart MLM Compensation Plan Analyzed
November 4, 2012
By Team Business For Home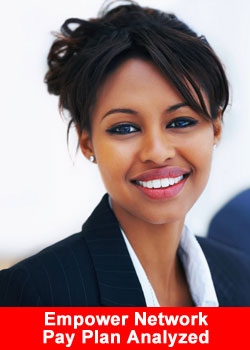 Empower Network is rocking through the Network Markting industry.
David Wood and David Sharpe's success – besides their awesome marketing campaign -, can be for a great part explained by a new compensation plan – the so called pass-up compensation plan, which is an unilevel enhancement.
How does it work and why does it attracts so many people? As of October 2012 – after 1 year since the launch approx. 45,000 paid affiliates are active and more than $14 million in commission is paid.
Compare this with traditional MLM start ups, it equals roughly $45 million in Sales revenue.
First let's have a look to the Empower Network Income Disclosure. According to Empower Network:
Empower Network pays a commission pursuant to the current compensation plan, which is available here. The data shown below is current for the date range shown and is updated frequently. Study our commission structure and the data below. Discuss our company with professional advisors and experienced affiliate marketers before deciding to purchase or promote any of Empower Network's products.

Empower Network does not guarantee that you will make any money from your use or promotion of our products and services.
In the Empower Network compensation plan, every affiliate is passing up the 2nd, 4th, 6th and then every +5 member (11th, 16th, 21st, and so on) to the upline. It sounds a little unfair, however it works like a charm.
According to above income disclosure approx. 45% of the affiliates make more than $25 per week (Low) or $1,300 per year outperforming many other network marketing compensation plans.
How is that possible?
The answer might be in the image below, which explains the pass-up compensation plan. John has signed up 3 affiliates Stan, Mary and Kim and has a small downline of 19 people.
John get paid over the 8 affiliates which are yellow. So Stan, Kim, Martin, Lara, K2, K4, P2 and P4.
John receives $200 in commission, total group sales is $475 so 42% is paid out to John.
$250 commission or 52% is paid to John´s downline and $25 flows to John´s upline. (Plus his autoship)
Conclusion
This compensation plan pushes commission to the front, which can explain the success of Empower Network. With 1 sign up an affiliate has his autoship covered, and with a small group, affiliates are in profit. Unheard in Multi Level Marketing.
.
I could be that more MLM companies would follow this Empower Network pay-out model in future as it seems to work very well.