Igor Alberts & Marisa Honing – Organo Gold Hit $87,000 Per Month
November 7, 2012
By Team Business For Home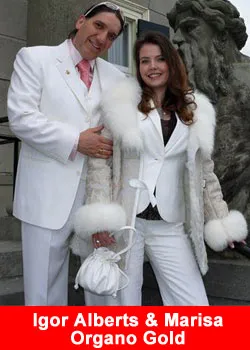 Igor Alberts and his business and life style partner Marisa Honing, from Amsterdam, The Netherlands, hit $87,000 per month, as of October 2012 with their Organo Gold distributorship.
Organo Gold is founded by Bernardo Chua, in 2008 and is on a mission, spreading the knowledge of Ganoderma to the four corners of the world and partnering with thousands of people along the way.
Using the cost effective network distribution system to deliver these Ganoderma products, more of every dollar is shared with the growing Organo Gold family world-wide.
The philosophy behind Organo Gold's Binary Compensation Plan is simple, yet powerful. Encourage and promote the sale of Organo Gold products on a reoccurring basis.
Each segment of the compensation plan encourages and enhances activities that affect another segment of the compensation plan. In other words, there should be a domino effect that benefits the distributor, the team and the company.
Organo Gold offers you 7 ways to earn money, along with incentives and benefits at each step of your growth towards leadership.
The only requirement to participate is the purchase of an $49.95 Business Kit and includes product samples, 1 year back office and a replicating website.
Organo Gold Team In The Netherlands