John Haremza – Javita Hits $12 Million in Career Earnings
November 19, 2012
By Team Business For Home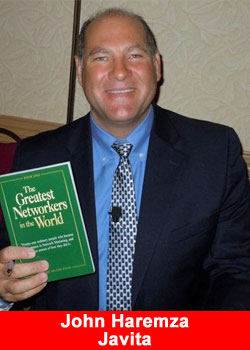 John Haremza is a 23 year network marketing veteran with lifetime earnings over $12 million. He is the Master Distributor for Javita, a one year old company that has seen sales increase by more than 500% over the past few months.
John grew up in the very small town of Perham, Minnesota. His dad was a janitor and his mom worked in the towns dog food factory. John knew his destiny was to follow in their footsteps. Then the hammer hit. When he started school discovered he could not read.
No matter how hard he tried, no matter what his parents did, no matter how his teachers cajoled and implored him, he could not read.
John had dyslexia back in the days when dyslexia was an unknown disability. John still remembers those very painful, embarrassing moments in school when his teachers would ask him to stand up and read a passage and he would stumble and stammer his way through it. When John looked at a page all the words and letters ran together and no matter how hard he tried he could not read.
John often says "I just wanted to be invisible".
His first job was on the production line at the Barrel of Fun Potato Chip plant in town. He very quickly moved into maintenance and soon became the maintenance manager. He thought he had the best job he would ever have. His family and all his friends thought so too. In fact it was the best and the only job he ever had.
Back in those days John was working 10-12 hour days, on call 24/7, earning $9.00 an hour, deeply in debt and living in a trailer park. And then one night he was invited to a friend's house to see a business his friend was looking at. John was sure that his friend wanted him to build a display or maybe check out the products.
Johns tells the story of how "I got tied up with a problem on the production line so I got to the meeting two hours late still wearing my blue work uniform, a hairnet, safety glasses and smelling like a potato chip. I can still see the look on the faces of the two suits from Minneapolis. "We waited two hours for this guy?"
John was just blown away. Water filters that changed brackish water to clear as a bell. John knew that everybody would want one of these. He wrote a postdated check for $480 and went home to his fiancé with an armful of water filters. She was not excited. Everyone they knew thought John had lost his mind and they told him so in no uncertain terms.
John could not be deterred. Despite the opposition and negative opinions John convinced his father to co-sign a note for $5000. He actually started going door to door in December selling water filters. That's how much he knew about network marketing! John could not understand why you would want to recruit anybody. Why tell anybody and create your own competition. When his brother wanted to join they made a pact not to tell anyone else.
He still remembers that day in the break room when everybody was riding him about leaving his secure, comfortable job and going after this network marketing thing. John's response was "maybe you're right but if I fail I can always come back and get a job like you have".
After 23 years and over $12,000,000 John looks back and says "Network Marketing changed my life beyond my wildest imagination". Today he lives in Fargo, ND, he has a lake Home in Minnesota 4 miles from the trailer park he used to live in and he winters at his place in Cape Coral.
Contact details John Haremza:
701-238-0137