Edgar Morales Joins bHip Global
December 1, 2012
By Team Business For Home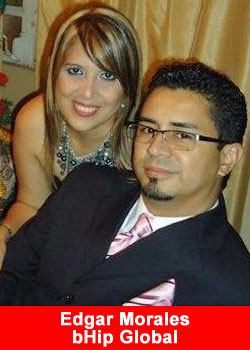 Industry Latino Leaders are Making the Move to bHIP as Puerto Rican Industry Star Edgar Morales Comes on Board.
With 20 successful years in the Network Marketing industry in the Latino market, Puerto Rican industry Star Edgar Morales says bHIP has what it takes, from its unique DNA Repair Products and customer acquisition promotions to its perfectly timed reverse expansion into North America, to attract Latinos in record numbers.
A well-known, Latin leader, Edgar says bHIP is one of the best positioned companies he's ever seen to be able to tap immediately into the $1.3 trillion purchasing power of the 50 million Latinos in just the U.S. alone.
"The U.S. Latino market is simply wide open for me and other Latino industry leaders that are coming on board. And, what's even more exciting for all of us is the expansiveness of the bHIP opportunity right out of the gate. With three cross-over Latino markets, Mexico, Colombia and Spain, already open for distribution bHIP is extremely attractive to us. My phone is ringing off the hook."
Edgar's success in Network Marketing is a true testimony to the power of this industry to completely transform lives financially. A young, married, soon-to-be father, Edgar had to drop out of college to take care of his family. Working as a waiter and a bartender 20 years ago, he met a man who told him he could do better than waiting tables and introduced him to Direct Sales.
Within 2 years of that meeting, he had achieved a top position with that company. Six years later, Edgar would become the fastest-growing distributor in Puerto Rico in just 3 months with another Network Marketing Company. He would go on to create large Latino organizations in 7 countries and become a Top Income Earner. Over the last few years, Edgar took a break as a field leader and worked as a Latino-Market Consultant for several well-known brands, but he was always on the look-out for his next big move. When he was introduced to bHIP, he knew he had found his home.
"Latinos want what everyone wants right now and that's stability, something our industry has been in short supply of in the last few years with so many failed start-ups" Edgar said. "That's what I love about bHIP. You have a solid, five-year old financially strong company that just happened to explode in the Far East, but already has world-wide distribution channels open in 40 countries.
Yet, bHIP is virtually unknown in North America and many other Latino countries. In addition, I absolutely love that with the bHIP Compensation Plan people can make money right away while they build. After 20 years in this industry, I'm ready to create my legacy, help others achieve the financial freedom I've enjoyed and bHIP is the place!"
BodHD and bHIP joined forces in September 2012 to create one of the most exciting and powerful Global Strategic Alliances in recent Networking Marketing history. Part of the alliance includes a massive marketing campaign utilizing bHip's proprietary anti-aging DNA Repair (AC-11 technology) products.
The campaign called b:Exceptional includes a program allowing anyone to purchase three full size DNA Repair products for only $100, a 60% savings off the $250 Retail price, when set up on auto-delivery. In addition, during this limited time campaign, the first auto-delivery order is reduced to only $50 and the entire $50 is paid to the Distributor that created the order.
The Distributor then earns an ongoing residual income on all continuing auto-delivery orders. bHIP, which is in its fifth year in business, is projected to do over 75 million annually in sales, mostly in international markets spanning more than 40 countries. Its global headquarters is located in Melissa, Texas, with additional support facilities in St. Paul, Minnesota and Branson, Missouri. The North American Sales and Marketing Office is headquartered in San Diego, California.
For more information, please contact:
Tammy Boonstra
bHIP North American Sales and Marketing Office
San Diego, California
(760) 597-2427